The Buzz on Maggie is an American animated television series which originally aired for 21 episodes between June 2005 and May 2006.
The series follows on Maggie Pesky, a happy-go-lucky tween fly, that aspires of becoming a rock star, but many episodes focus on her daily life.
The series was created by Dave Polsky, one of the writers for Scary Movie 2 and Frank TV. Dave Wasson directed and designed the looks for the characters. The series was the first Disney series to be fully animated in Flash, and it was nominated for an Annie Award for its character design. In August 2005, an artist for the series confirmed that the series had been cancelled. The last episode aired on May 27, 2006, and the series continued to air in reruns until August 9, 2008.
Premise
Maggie Pesky is a creative, cute and expressive fly, who has a dream of becoming a famous rock star. She lives in the fly metropolis of Stickyfeet with her parents Chauncey and Frieda, her older brother Aldrin, younger brother Pupert, and her younger sister Bella, who is still in the stage of a maggot.
Throughout the show Maggie is seen to choose the easy way in the tasks she accomplishes, such as cheating on a test or simply being selfish. She is often seen to only care about herself, and puts herself and her needs in front of others. Her best friend Rayna Cartflight helps Maggie to fulfill her dreams. Even though the main story is that Maggie wants to be a rock star, most episodes are about her daily life and the occasions she faces.
Production
The series was created by screenwriter Dave Polsky, who is perhaps best known for co-writing the spoof Scary Movie 2. He executive produced all episodes alongside the director, Dave Wasson. The series was animated in Macromedia Flash at Bardel Entertainment in Vancouver, Canada and at Future Thought Productions in Mumbai, India. It was the first Disney show to be fully animated in Flash.
Production of The Buzz on Maggie started in 2004. Many of the crew members from ¡Mucha Lucha! worked on the show. During an interview with Animation Magazine, Wasson stated that he was influenced by Tex Avery and early Disney shorts when he created the look for the show. He said that The Buzz on Maggie​ has "a lot of 1930s touches," stating, "The characters wear white gloves, for example. That's a direct homage to those classic shorts." He chose to animate it in Flash because he "was convinced it was a good way to go. I had done a few commercials in Flash and a few short films for a museum in Singapore. [...] I've always maintained that in the right hands, you shouldn't be able to see any difference between Flash and regular hand-drawn 2D." Wasson and Jorge Gutierrez were both character designers for the series. Gutierrez was nominated for an Annie Award for his character design in the episode "Bella Con Carny".
The series' theme song, "Just the Way I Am" was performed by Canadian singer Skye Sweetnam. It was produced and written by Dillon O'Brian and Bob Thiele. The song was nominated for a Daytime Emmy in 2006 for Outstanding Original Song.
The series premiered on Friday June 17, 2005 at 8pm and then began airing at 5:30pm on weekends. The series also joined the ABC Kids schedule on September 17, 2005. It premiered at 9:30am with a Nielsen rating of 1.6/7 the kids 2−11 demographic, and a 1.4/7 rating in tweens 9−14, which was the highest rating for that time slot in three months. In August 2005, artist Sean Seles reported on his blog that the series had been cancelled, stating: "Apparently good animation, art direction, and characters don't mean anything to Disney. The Buzz on Maggie is no more." The final episode aired on May 27, 2006 and the series aired in reruns until it was removed from the schedule on August 9, 2008. The Buzz on Maggie was the second Disney original series to be cancelled after one season, after Dave the Barbarian.
Characters
Episodes
#
First segment
Second segment
Airdate
Production
code
1
Flyinator
Ladybugged
June 17, 2005
103
2
Funball
The Science Whatchamacallit
June 17, 2005
102
3
The Candidate
Germy
June 24, 2005
101
4
Lunchlady
Love Stinks
July 1, 2005
104
5
The Price of Fame
King Flear
July 8, 2005
105
6
Rottingmuck Ranch
Bella Con Carney
July 15, 2005
110
7
Bugsitting
Le Termite
July 22, 2005
107
8
Pieface
The Hangout
August 5, 2005
108
9
Slumber Party
Spelling Bees
August 13, 2005
106
10
Usual Insects
Sister Act
September 17, 2005
111
11
Hooligans
Scum Bites
September 24, 2005
116
12
The Big Score
Scare Wars
October 22, 2005
113
13
Metamorpho Sis
Radio Free Buzzdale
November 12, 2005
114
14
Those Pesky Roaches
Bugtillion
December 17, 2005
115
15
Hot for Tutor
Sick Days Inc.
January 7, 2006
112
16
Scout of Order
Ant Mines
February 11, 2006
109
17
Faking History
Bugs on the Brink
March 4, 2006
118
18
Training Day
Honey Striper
March 18, 2006
117
19
Racooooon!
Best, Best Friends
April 22, 2006
119
20
Peskys Unclogged
Club Hopping
May 6, 2006
120
21
Synchronized Flying
Roach Hotel
May 27, 2006
121
Voice cast
Guest stars
Daran Norris - Flyinator ("Flyinator")
Laraine Newman - Lacey Ladybug ("Ladybugged")
Jon Polito - New Aldrin, New Pupert ("Those Pesky Roaches")
Dee Dee Rescher - New Maggie ("Those Pesky Roaches")
Paul Rodriguez - Mr. Hairlegger ("Lunch Lady" and "Racooooon!")
Gallery
Theme Song
Bumpers
Awards and nominations
Award
Category
Nominee
Result
2006 Daytime Emmy Awards
Outstanding Original Song
Bob Thiele and Dillon O'Brian
For "[[Just the Way I Am]]"
Nominated
2005 Annie Awards
Best Character Design in an Animated Television Production
Jorge Gutierrez
For "Bella Con Carny"
Nominated
References
v - e -

d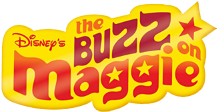 Media
The Buzz on Maggie •
Episode List
Locations
Stickyfeet • Buzzdale Academy • Forest • Wolfred's Lair • Stickyfeet City Hall