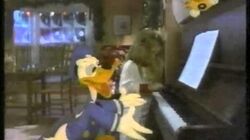 The Coca-Cola Company is a longtime sponsor and drink supplier at the Disney theme parks. It has been present since Disneyland's opening day of July 17, 1955, with its Coca-Cola Refreshment Corner on Main Street, U.S.A. Both Coca-Cola and Pepsi-Cola were available at Disney parks until 1990. Today, only Coca-Cola beverages can be purchased at the parks.[1] (The Pepsi-Cola Company's Frito-Lay products, however, continue to be sold at the parks). Additionally, citizens have appeared as several of the brands in Sugar Rush.
Attraction and restaurant sponsorship
Dining
Entertainment
Attractions
Dining
Attractions
References
Community content is available under
CC-BY-SA
unless otherwise noted.