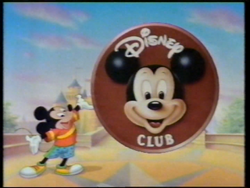 The Disney Club was a television block that aired usually at weekends in the morning. It pretty much served as the international equivelent to The Disney Afternoon and Disney's One Saturday Morning outside of the United States, lasting, for the most part, from the early 1990s until the late 2000s.
History of the block 
The block was in many countries the first introduction for international audiences to Disney's animated TV shows, because the majority of the international versions of the Disney Channel wouldn't begin transmission until the late 1990s and early 2000s.
Due to the amout of television channels in countries outside of the United States being significantly smaller, the block mostly aired on the major free-to-air television channels from each country.
Since Disney Club primarly aired on European countries, it was also served as a strong form of publicity in the build up towards the opening of Disneyland Paris (at the time known as Euro Disneyland).
In the United Kingdom it was a British Sunday-morning Disney block produced by Scottish Television in association with Buena Vista Productions UK. The block aired from September 3, 1989 until April 26, 1998, when it merged with Saturday-morning block Wake Up in the Wild Room to form Diggit.
Programmes
The Disney Club featured programmes from Walt Disney Television Animation, as well as occasional airings of older Disney theatrical cartoons. The block also aired Disney movies on rare occasions.
Unlike its american counterparts, however, the block was in most cases hosted by a group of presenters, with the company of a large group of children. It also hold some contests to both watchers at home and the kids present in the block, with prizes being usually Disney merchandise.
The block also served as a way to advertise other Disney content such as upcoming theatrical movies from Walt Disney Pictures.
Presenters in the UK
During the show's start in 1989, the series was presented by Andrea Boardman, John Eccleston, Richard Orford and Paul Hendy. In September 1994, Philippa Forrester and Craig Doyle joined the presenting team.
In 1995, the presenters were changed. Andrea, John, Richard and Paul all left, while Philippa Forrester and Craig Doyle remained. Presenters added during this time until 1998 included Paul 'Des' Ballard, Fearne Cotton and Reggie "Robbie" Yates.
After the show's finish, Des and Fearne would go on to present Diggit, which they presented until 2002.
Videos
Gallery