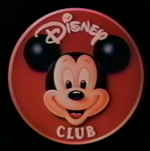 The Disney Club was a British Sunday-morning Disney block produced by Scottish Television in association with Buena Vista Productions UK. It was one of many blocks across the world that used The Disney Club format.
The block aired from September 3, 1989 until April 26, 1998, when it merged with Saturday-morning block Wake Up in the Wild Room to form Diggit.
Programmes
The Disney Club featured programmes from Walt Disney Television Animation, as well as occasional airings of older Disney theatrical cartoons. The block also aired Disney movies on rare occasions.
Presenters
During the show's start in 1989, the series was presented by Andrea Boardman, John Eccleston, Richard Orford and Paul Hendy. In September 1994, Philippa Forrester and Craig Doyle joined the presenting team.
In 1995, the presenters were changed. Andrea, John, Richard and Paul all left, while Philippa Forrester and Craig Doyle remained. Presenters added during this time until 1998 included Paul 'Des' Ballard, Fearne Cotton and Reggie "Robbie" Yates.
After the show's finish, Des and Fearne would go on to present Diggit, which they presented until 2002.
Community content is available under
CC-BY-SA
unless otherwise noted.