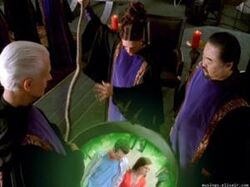 The Dominion
is the villainous organization appearing in the film,
Return to Halloweentown
.
Role in the film
It's an ancient evil organization of witches and warlocks who wants to rule Halloweentown; the original group had their plan foiled when Splendora Agatha Cromwell locked the Gift away and gave the key to Marnie. The present day members include Silas Sinister, his trio of Sinister Sisters, Chancellor Goodwin, Prof. Ichabod Grogg and Edgar Dalloway. They also appear to have monster servants who don't mind their plan to rule.
Edgar is the only member to appear in Halloweentown High. He primarily works to steal the Cromwell magic by foiling any attempts Marnie and Agatha make for co-existence between the monsters of Halloweentown and humans. He is proven to be the reason behind most of the distrust before being imprisoned.
The remaining members focus on the prophecy saying Marnie will use the gift. They try getting her to open the box it's in after it comes to her, but she fails. Once she time travels and gets the key from young Aggie (Splendora), they force her to be their proxy and use the Gift to make them rulers of Halloweentown at the stroke of Midnight on Halloween at Witch University, which is when all spells become permanent. However, Marnie tricks them and destroys the gift. Professor Periwinkle captures Silas, Goodwin and Grogg in a Witch's Glass, a mirror for their punishment.
Wardrobe
In meetings, the members of the Dominion wear black robes with hoods over which appears to be a purple cloth, which may be attached to the cloak, with golden linings. The other members always have their hoods up.
Community content is available under
CC-BY-SA
unless otherwise noted.