"The Doonkleberry Imperative" is an episode of Phineas and Ferb.
Synopsis
When Mom is out of Doonkelberries for her famous Doonkelberry pie, the boys set out to find some for her. Meanwhile, Perry and Dr. Doofenshmirtz find themselves across the ocean as Doofenshmirtz returns home to renew his Drusselsteinian driver's license. Back in Danville, Candace is convinced she has discovered the answer to her busting problem.
Plot
Candace is sitting in her room, asking the "Phenomenon" why Phineas and Ferb's inventions always disappear. As she asks for a sign, she bumps her head into the wall behind her, which drops a book about disappearing objects from the above bookshelf. Meanwhile, Phineas and Ferb are sitting in the kitchen when Linda comes in, the boys would like a Doonkelberry pie but she's unable to find Doonkelberries in town, however, and not knowing where they come from, Phineas and Ferb search the Internet to find that Doonkelberries are the biggest export of Drusselstein.
At the front door, a package arrives for Perry from the O.W.C.A., which he opens. In it is a letter with a talking photo of Major Monogram attached. Monogram tells Perry that Dr. Doofenshmirtz is taking a trip to Drusselstein, and Perry must follow him there but giving him as attire. Afterward, the package and letter self-destruct as Perry takes off after his nemesis.
In the backyard, Isabella and Baljeet help Phineas and Ferb build a trebuchet with which they plan to launch themselves to Drusselstein to collect the Doonkleberries themselves.
Meanwhile, Candace searches for a book in the Danville library called Disappearing Objects to help her bust her brothers. The librarian tells her, however, that it has been lent out to Heinz Doofenshmirtz. But Vanessa, who is visiting the library as well, tells Candace that Heinz is her father, and can help her look for the book in his house.
Perry arrives in Drusselstein, where he stops Doofenshmirtz. He informs Perry, however, that he isn't doing anything evil today, but is simply renewing his driver's license at the DMV. He then asks Perry to accompany him, which Perry accepts.
In Danville, Phineas and Ferb are ready to launch in the trebuchet. Baljeet uses a special machine to bring Drusselstein and Danville close together, which allows them to fly across rather than landing in the ocean. But when they finally reach Drusselstein and find a Doonkelberry stand, the seller tells them that they cannot export because the electricity-providing goat-powered machine for Drusselstein called the shaft is stuck, due to a feud between the people. The vendor explains that half the Drusselteinian population wants their goats to walk to the right, and the other half want their goats to walk to the left, keeping the machine stuck from moving. Phineas, Ferb, and Isabella decide that they want to help resolve the conflict, and offer to help.
Doofenshmirtz and Perry enter the DMV and approach the desk. But much to Doofenshmirtz's dismay, the receptionist tells him that he will have to take a driving test in order to be re-certified. Perry comforts Doofenshmirtz and holds his hand as they walk out to the test. Vanessa and Candace go to Doofenshmirtz Evil Incorporated and begin searching for the book. Vanessa explains as they search in the main lair that her dad is an amateur inventor. But while they look, they unknowingly turn on some of Doofenshmirtz's laser rays, which begin to make objects in the room disappear.
Phineas, Ferb, and Isabella try to negotiate with the Left and Right People, but fail, as neither side is willing to change the direction their goats move. However, they get another idea. On a mountain, Doofenshmirtz sits in a car with Perry, about to take his driving test. The leader gives the signal, and a mountain goat butts into the car, getting the unready Doofenshmirtz started on the test. Doofenshmirtz drives erratically all over town while Perry, scared, holds on tightly until they reach the finish line, nearly destroying the car and the populace in the process.
Candace sees a laser ray on Doofenshmirtz's balcony and looks through it, thinking it is a telescope. Seeing Phineas and Ferb's trebuchet in the backyard, Candace calls Linda, who is in the kitchen. Linda turns around, but as she does so, Candace inadvertently hits the fire button on the inator with her elbow, which makes the trebuchet disappear. Candace disappointingly leaves and tells Vanessa, who has finally found the book, that it isn't worth it.
Meanwhile, Phineas and Ferb explain that they can solve the problem of the machine. Ferb use a saw to cut at the shaft in the middle, causing it to technically be going left and right, solving the Drusselstinians' problem. They are rewarded with fresh Doonkelberries, and then take the people's trebuchet back home. The left and right side people argued again about with Phineas or Ferb name first of the day. Doofenshmirtz, having gotten re-certified, sees the Drusselstein trebuchet, and tells Perry he will take that home. Perry flies off, and Doofenshmirtz launches himself in his car towards Danville with the trebuchet. After eating pie, however, Phineas and Ferb see Drusselstein above them and realize they forgot to separate Danville and Drusselstein. Baljeet fixes this using his machine again, causing Doofenshmirtz's car to fall into the ocean.
Songs
Cast
Goofs
Phineas and Ferb made the goats go in different directions, but when their change of directions is being shown, both sides are going clockwise, yet people still think that they were going different directions.
Phineas does not address the problem that after their modification, half of the devices in Druelselstein will now spin in reverse.
When Perry throws the letter from Major Monogram away, Monogram's eyes and mustache are red.
When Perry is in the car with Heinz, his flower on his rockenhosen is gone. In the next scene, the flower is back.
When Doofenshmirtz finishes his driving test he is bald. Right after, his hair comes back.
Just before Doofenshmirtz is about to start the driving test, the shot shows that he is on a cliff. The previous shot shows a longer road.
When Candace mentions the rocket disappearing, it was actually Linda's fault that made the rocket fly away.

She also mentions the stampeding cows disappearing, but the cows did not disappear, as they were gathered back into a corral.

When Zengle shows a map of Druselstein, it is shown "sfa oe" instead of "sea of".
Trivia
The disagreements between those who want the goats to move to the left and those who want them to move to the right satirizes the basic opposition of left-right politics. The two sides are depicted with blue signs for the left and red signs for the right, which are colors commonly used to represent the particular sides in the United States: blue for left (Democrats) and red for right (Republicans).
The car in which Doofenshmirtz does the driving test, resembles the much-derided and much-mocked Zastava Koral, otherwise known as the Yugo.
Due to a line by Doofenshmirtz, it seems that Perry had an accident during his ride with Doofenshmirtz.
Gallery
v - e - d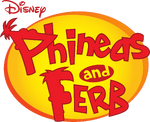 Episodes
Season One: "Rollercoaster" • "Candace Loses Her Head" • "The Fast and the Phineas" • "Lawn Gnome Beach Party of Terror" • "The Magnificent Few" • "S'Winter" • "Are You My Mummy?" • "Flop Starz" • "Raging Bully" • "Lights, Candace, Action!" • "Get That Bigfoot Outta My Face!" • "Tree to Get Ready" • "It's About Time!" • "Jerk De Soleil" • "Toy to the World" • "One Good Scare Ought to Do It!" • "A Hard Day's Knight" • "I, Brobot" • "Mom's Birthday" • "Journey to the Center of Candace" • "Run Away Runway" • "I Scream, You Scream" • "It's a Mud, Mud, Mud, Mud World" • "The Ballad of Badbeard" • "Dude, We're Getting the Band Back Together" • "Ready for the Bettys" • "The Flying Fishmonger" • "Phineas and Ferb Get Busted!" • "Greece Lightning" • "Leave the Busting to Us!" • "Crack That Whip" • "The Best Lazy Day Ever" • "Boyfriend From 27,000 B.C." • "Voyage to the Bottom of Buford" • "Put That Putter Away" • "Does This Duckbill Make Me Look Fat?" • "Traffic Cam Caper" • "Bowl-R-Ama Drama" • "The Monster of Phineas-n-Ferbenstein" • "Oil on Candace" • "Unfair Science Fair" • "Unfair Science Fair Redux (Another Story)" • "Out to Launch" • "Got Game?" • "Comet Kermillian" • "Out of Toon" • "Hail Doofania!"


Season Two: "The Lake Nose Monster" • "Interview With a Platypus" • "Tip of the Day" • "Attack of the 50 Foot Sister" • "Backyard Aquarium" • "Day of the Living Gelatin" • "Elementary My Dear Stacy" • "Don't Even Blink" • "Chez Platypus" • "Perry Lays an Egg" • "Gaming the System" • "The Chronicles of Meap" • "Thaddeus and Thor" • "De Plane! De Plane!" • "Let's Take a Quiz" • "At the Car Wash" • "Oh, There You Are, Perry" • "Swiss Family Phineas" • "Hide and Seek" • "That Sinking Feeling" • "The Baljeatles" • "Vanessassary Roughness" • "No More Bunny Business" • "Spa Day" • "Phineas and Ferb's Quantum Boogaloo" • "Phineas and Ferb Musical Cliptastic Countdown" • "Bubble Boys" • "Isabella and the Temple of Sap" • "Cheer Up Candace" • "Fireside Girl Jamboree" • "The Bully Code" • "Finding Mary McGuffin" • "Picture This" • "Nerdy Dancin'" • "What Do It Do?" • "Atlantis" • "Phineas and Ferb Christmas Vacation!" • "Just Passing Through" • "Candace's Big Day" • "I Was a Middle Aged Robot" • "Suddenly Suzy" • "Undercover Carl" • "Hip Hip Parade" • "Invasion of the Ferb Snatchers" • "Ain't No Kiddie Ride" • "Not Phineas and Ferb" • "Phineas and Ferb-Busters!" • "The Lizard Whisperer" • "Robot Rodeo" • "The Beak" • "She's the Mayor" • "The Lemonade Stand" • "Phineas and Ferb Hawaiian Vacation" • "Summer Belongs to You!" • "Nerds of a Feather" • "Wizard of Odd" • "We Call it Maze" • "Ladies and Gentlemen, Meet Max Modem!" • "The Secret of Success" • "The Doof Side of the Moon" • "Split Personality" • "Brain Drain" • "Rollercoaster: The Musical!" • "Make Play" • "Candace Gets Busted"
Season Three: "The Great Indoors" • "Canderemy" • "Run, Candace, Run" • "Last Train to Bustville" • "Phineas' Birthday Clip-O-Rama!" • "The Belly of the Beast" • "Moon Farm" • "Ask a Foolish Question" • "Misperceived Monotreme" • "Candace Disconnected" • "Magic Carpet Ride" • "Bad Hair Day" • "Meatloaf Surprise" • "Phineas and Ferb Interrupted" • "A Real Boy" • "Mommy Can You Hear Me?" • "Road Trip" • "Tour de Ferb" • "Skiddley Whiffers" • "My Fair Goalie" • "Bullseye!" • "That's the Spirit" • "The Curse of Candace" • "Escape from Phineas Tower" • "Lotsa Latkes" • "Ferb Latin" • "A Phineas and Ferb Family Christmas" • "Tri-Stone Area" • "Doof Dynasty" • "Excaliferb" • "Phineas and Ferb and the Temple of Juatchadoon" • "Monster from the Id" • "Gi-Ants" • "The Remains of the Platypus" • "Mom's in the House" • "Perry the Actorpus" • "Let's Bounce" • "Bully Bromance Break Up" • "Quietest Day Ever" • "Doonkleberry Imperative" • "Meapless in Seattle" • "Delivery of Destiny" • "Buford Confidential" • "The Mom Attractor" • "Cranius Maximus" • "Agent Doof" • "Minor Monogram" • "What a Croc!" • "Sleepwalk Surprise" • "Sci-Fi Pie Fly" • "Sipping with the Enemy" • "Tri-State Treasure: Boot of Secrets" • "Doofapus" • "Norm Unleashed" • "Where's Perry?" • "Ferb TV" • "When Worlds Collide" • "What'd I Miss?" • "Road to Danville" • "This is Your Backstory" • "Blackout!"
Season Four: "For Your Ice Only " • "Happy New Year!" • "Fly On the Wall" • "Bully Bust" • "My Sweet Ride" • "Der Kinderlumper" • "Sidetracked" • "Primal Perry" • "Mind Share" • "Backyard Hodge Podge" • "Bee Day" • "Bee Story" • "Great Balls of Water" • "Where's Pinky?" • "Phineas and Ferb Musical Cliptastic Countdown Hosted by Kelly Osbourne" • "Knot My Problem" • "Just Desserts" • "La Candace-Cabra" • "Happy Birthday, Isabella" • "Love at First Byte" • "One Good Turn" • "Mission Marvel" • "Thanks But No Thanks" • "Troy Story" • "Druselsteinoween" • "Terrifying Tri-State Trilogy of Terror" • "Face Your Fear" • "Cheers for Fears" • "Steampunx" • "Just Our Luck" • "Return Policy" • "Live and Let Drive" • "Phineas and Ferb Save Summer" • "Father's Day" • "Imperfect Storm" • "The Return of the Rogue Rabbit" • "It's No Picnic" • "The Klimpaloon Ultimatum" • "Operation Crumb Cake" • "Mandace" • "Phineas and Ferb: Star Wars" • "Lost in Danville" • "The Inator Method" • "Night of the Living Pharmacists" • "Tales from the Resistance: Back to the 2nd Dimension" • "Doof 101" • "Act Your Age" • "Last Day of Summer" • "O.W.C.A. Files"
Community content is available under
CC-BY-SA
unless otherwise noted.