The Duck family is the term used for the relatives of Donald Duck. Throughout the years, the relationships of Donald's relatives have been revised and modified by authors, although there are some consistent relationships directly with Donald's closest relatives. This group is also related to the Von Drake, Coot, Goose, Gander, and the McDuck families.
Background
The Duck family's roots date back to 1618 when Captain Thirtyville, his nephew Donald Ducktargen and his nephews Houie, Louie, and Dewie (the Three Cadet Musketeers), moved to America to establish their clan.
Members
Boatsman Pintail
Boatsman Pintail first appeared in Carl Barks' "Back to Long Ago" in Uncle Scrooge #16. According to the story, he and his superior, Matey McDuck buried a treasure of potatoes for Captain Loyal Hawk of The Falcon Rover. He drowned three days later and was later reborn as Donald Duck. His debut story does not mention any genealogical relation to Donald, and he is simply referred to by Matey McDuck as "Bos'n Pintail", with "Pintail" presumably being intended by Barks as the character's last name.
Humperdink "Grandpa" Duck
Elviry/Abigail "Grandma" Duck
Quackmore Duck
Daphne Duck
Eider Duck
Eider Duck, also known as Uncle Eider, is Donald Duck's uncle and Fethry Duck's father, who was first mentioned in August 1944 in the Carl Barks story The Fighting Falcon (Walt Disney's Comics and Stories #47). In this story, Donald receives a falcon called Farragut as a present from his uncle Eider who does not live in Duckburg. Farragut arrives inside a big box brought to Donald's house by an expressman.
Barks never mentioned Eider again in any of his stories. Donald did briefly mention Fethry's father in an unnamed Disney comic from 1969, written by Dick Kinney and drawn by Al Hubbard.[1] Eider made his first visual comic appearance in The Empire-Builder from Calisota, where he was shown working at the Duck family farm. He later made a brief cameo appearance as a background character in Duckburg in the crossover comic Dangerous Currency.[2]
Eider was also shown on a portrait on Don Rosa's Duck Family Tree, as the husband of Lulubelle Loon and the father of Whitewater and Fethry Duck. Given the fact that, in O Nascimento Do Biquinho, Fethry mentions that he has got a sister, Eider and Lulubelle would have at least one daughter, making him the grandfather of Fethry's nephew Dugan.
Lulubelle Loon
Lulubelle Loon is the wife of Eider Duck and the mother of Fethry Duck.
Donald Duck
Della Duck
Fethry Duck
Whitewater Duck
Huey, Dewey and Louie Duck
Moby Duck
Dugan Duck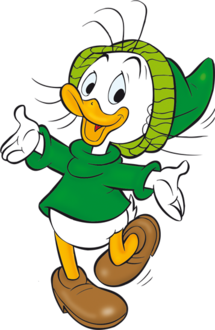 Dugan Duck is the 4-year-old nephew of Donald Duck's cousin Fethry Duck. He is a big troublemaker and even gets his chaotic uncle into problems.
The first story featuring Dugan begins when Fethry and his girlfriend Gloria are checking the Duck family tree, and one branch has no name, just the drawing of an egg. Fethry explains that when his sister was about to get her first egg from the stork, a hand came from the egg and knocked the stork out, and when they searched, only found the stork and the broken eggshell. Fethry and Gloria travel to the jungle where the egg was lost the first time, and find Dugan who was raised by porcupines. They are all trapped by a tribe and sacrificed to a volcano, but it turns that it is the joker tribe of Quiuanagucha and the ducks were not in real danger, with a net awaiting them before reaching the lava. Fethry takes Dugan back to the civilization.
After moving back to Duckburg, Dugan begins wearing clothes similar to his uncle's ones and appears in several comic stories. Dugan is younger than Huey, Dewey, and Louie, and considered too young to join the Junior Woodchucks and has been refused membership.
While Dugan has a low opinion about his uncle Fethry, he admires the Red Bat (Fethry's superhero identity). Overall he causes a lot of trouble to his uncle and makes even him upset.
Although various colorists (especially ones coloring Dugan's more recent appearances) have depicted Dugan with white feathers (like most Disney ducks), Dugan has often been portrayed having yellow feathers.
Upsy Duck
Upsy Duck is Donald's uncle from "Mastering The Matterhorn". In the story, one of Donald's triplet nephews mentions that Upsy was their great uncle. According to this story, he gained the nickname "Upsy" because he was a great mountain climber. Donald clearly refers to Upsy Duck as his uncle on the fourth page of this comic story. He says in the first panel of this page, "But Uncle Upsy didn't give up easily!"
Sheriff Dan Duck
Sheriff Dan Duck (aka Cousin Dan) is an old cousin of Donald who happens to be sheriff of a Western town called Bent Spur Gulch. Dan originally has dark grey thick eyebrows, a long dark grey mustache and long dark grey hair on the left and right sides of his head. He is generally shown holding a crutch.
Dudly D. Duck
Dudly D. Duck is a cousin of Donald who appears in the comic story "Why All the Crabby Ducks" by Vic Lockman and Mike Arens. He is a flopped architect and inventor who was responsible for the construction of the "Jog Tunnel", which annoys the citizens of Duckburg because it really has a jog in it, and for the bad planning of Duckburg's streets. Therefore, Dudly became very unpopular and was forced to live isolated in a lonely street, including his name was forgotten until the day that Donald discovers who planned the "Jog Tunnel", and then his girlfriend Daisy Duck reveals who is Dudly Duck through the newspaper where she works as a reporter. A reporter rival of Daisy ends up discovering that Dudly is related to Donald, who in turn becomes unpopular too.
Nancy Duck
Nancy Duck is a female cousin on the father's side of Donald. She appears in the comic story "A Likely Story" by Bob Gregory, where Daisy Duck thinks that Donald is having a romantic meeting with a glamorous and beautiful actress who is also called Nancy Duck in his own home. Like Upsy and Dim-Witty Duck, Nancy also tends to keep her eyes half-opened.
Ludwig Von Drake
Clan McDuck
Scrooge McDuck
Douglas McDuck
Fergus McDuck
Gideon McDuck
Rumpus McFowl
Hortense McDuck
Matilda McDuck
Downy McDuck
Pothole McDuck
Titus McDuck
Sir Eider McDuck
Sir Eider McDuck is mentioned in the story "The Old Castle's Secret" by Carl Barks and later appeared in Don Rosa's Duck Family Tree and The Life and Times of Scrooge McDuck.
Sir Eider was born in Scotland in 880. Later in his life, he became the leader of The Clan McDuck. In 946, the castle was under siege by Anglo-Saxons, raiders who did not care about the treaty that King Edmund I of England and King Malcolm I of Scotland signed in 945. Sir Eider did not supply arrows for his men (because they were expensive) and paid them (collectively) only 30 pieces of copper an hour. His under-paid men abandoned their lord to save their lives, and Sir Eider died fighting the raiders alone.
Sir Eider was buried in the family cemetery, and his armor was placed in one of the castle's hallways.
Sir Quackly McDuck
Sir Quackly McDuck is a character from the Donald Duck comics. He is Scrooge McDuck's Scottish ancestor and was first mentioned in the story The Old Castle's Secret, by Carl Barks. Here, Scrooge and his nephews go on a hunt for Quackly's presumed treasure, with which he accidentally trapped himself inside the walls while trying to protect it. Sir Quackly became a legend among the McDucks, who claimed that his ghost protected the treasure and the castle. The story's villain Diamond Dick disguises himself as Quackly's ghost to scare Scrooge McDuck away. In the end, however, Sir Quackly's remains and the treasure chest are found by Scrooge and his nephews.
Quackly later appeared in Don Rosa's Donald Duck family tree poster. He also appears as a ghost in The Life and Times of Scrooge McDuck. He made a cameo appearance in The Haunted Houses, (Walt Disney's Comics and Stories 661) dancing among ghosts from other previous Donald Duck and Mickey Mouse comics.
Sir Stuft McDuck
Sir Stuft McDuck was a successful chief of Clan McDuck who oversaw a period of prosperity.
Sir Roast McDuck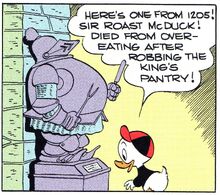 Sir Roast McDuck is a character from the Donald Duck and Uncle Scrooge comics.
The son of Stuft McDuck, Roast was clan chief at a point when Clan McDuck was one of the richest clans in Scotland. However, he was known for patriotic imprudence and gluttony which led the clan on the brink of collapse and even his own death. In 1189, Roast offered much of the clan's wealth to King William, leading to financial ruin for the clan. In 1205, he raided the king's pantry and died from over-eating. In Castle McDuck, Roast's suit of armor holds a knife and fork in its hands.
Roast was first mentioned in Carl Barks' "The Old Castle's Secret. He made his first appearance in "The New Laird of Castle McDuck".
Sir Swamphole McDuck
Sir Swamphole McDuck is a character from the Donald Duck comic "The Old Castle's Secret".
Swamphole was born in 1190 as the son of Roast McDuck, whom he succeeded as chief of the clan. Being chief also meant inheriting the clan's financial problems, thus in 1220, Swamphole sealed the dungeon of Castle McDuck, slated to decrease maintenance costs; in truth, this was to conceal a treasure.[3] He also created secret passageways in the castle leading to the dungeons. After his death in 1260, Swamphole's skeleton was not buried in the clan cemetery but placed inside his suit of armor in Castle McDuck.
Sir Simon McDuck
Sir Simon McDuck is a McDuck who was the treasurer of the Knights Templar. Before his death, he hid the knights' treasure beneath McDuck Castle.
He is mentioned in "The Old Castle's Other Secret or A Letter From Home".
Sir Donald McDuck
Sir Donald McDuck, nicknamed Black Donald, is a Scottish ancestor of Scrooge known for his horrible temper, hence his nickname. He was said to have invented golf, hammer throw, and caber toss in 1440. However, it was because of his temper while playing golf that James II of Scotland outlawed the sport. His descendant and namesake, Donald Duck, has a temper reminiscent of Black Donald.
Black Donald was first mentioned in Don Rosa's The History of the Clan McDuck. He was also mentioned in the 2017 DuckTales episode "The Missing Links of Moorshire!".
Sir Murdoch McDuck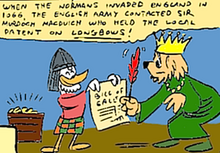 Sir Murdoch McDuck or Sir Murdoch MacDuich was the last person in the Dark Ages MacDuich Clan, he was the one who changed the family surname to McDuck. He was born in the 11th century. In 1066, when the Normans invaded England, the English Army came to him to sign a contract to supply them longbows because he owned the patent. However, the contact did not state that he would charge extra for arrows. He ironically died from a shot from a longbow.
Sir Murdoch McDuck was created for the book "The History of the Clan McDuck" but is mentioned in the 2017 DuckTales episode "The Secret(s) of Castle McDuck!.
Coot Kin
The surname "Coot" had been used on several ducks by various artists, usually for characters who were relatives of Donald Duck but were not part of the Duck family or the Clan McDuck. When Don Rosa created his Duck Family Tree in 1993, he included the Coots used by Carl Barks and himself as Grandma Duck's family and descendants of Cornelius Coot. It was Rosa's idea to use Coot as Grandma's maiden name and to have Cornelius Coot as an ancestor of Donald, and it, therefore, contradicts Barks's work.
Cornelius Coot
Clinton Coot
Gertrude Gadwall
Gertrude Gadwall is the wife of Clinton Coot, mother of Elvira Coot (also known as Grandma Duck) and Casey Coot, and grandmother of Quackmore Duck, Daphne Duck, Eider Duck, Cuthbert Coot and Fanny Coot, and their descendants.
Casey Coot
Casey Coot is an anthropomorphic Coot, who was one of Scrooge McDuck fellow prospectors during Scrooge's Gold Rush days. He was introduced in Last Sled to Dawson, (Uncle Scrooge Adventures #5).
Casey is introduced as an unsuccessful gold prospector and friend of Scrooge McDuck during his years as a prospector during the Klondike Gold Rush. In need of money, he sold to the significantly more successful Scrooge McDuck his share in Duckburg, Calisota, USA. His share included "Killmule Hill" which renamed to "Killmotor Hill" comprises the land where Scrooge's money bin stands on. He later appeared in The King of the Klondike and Hearts of the Yukon. According to The Invader of Fort Duckburg, Grandma Duck is his sister.
In Don Rosa's Duck Family Tree he is featured as a grandson of Cornelius Coot, a son of Clinton Coot and his wife Gertrude Gadwall. According to the tree, he was married to Gretchen Grebe and they had at least two kids named Fanny Coot and Cuthbert Coot.
Gretchen Grebe
Gretchen Grebe is the wife of Casey Coot, mother of Cuthbert Coot and Fanny Coot and grandmother of Gus Goose.
Fanny Coot
Cuthbert Coot
Kildare Coot
Kildare Coot was introduced by artist Romano Scarpa as a highly eccentric fourth cousin of Donald Duck in the story "Sgrizzo, il papero più balzano del mondo" (roughly translated as "Kildare Coot, the weirdest duck in the world"), first published on October 25, 1964. Though his exact relationship to Donald remains uncertain his last name suggests he belongs to the Coot Kin and that he is related to Donald through Elvira Coot, Donald's paternal grandmother. Curiously, Kildare usually treats Gideon McDuck, Scrooge's younger brother, as his uncle. Kildare and his fellow Andy Ascott (original Italian name) appear as reporters of Gideon's newspaper, The County Conscience, in some Italian stories.
Gander family
Goosetave Gander
Goosetave Gander is Gladstone Gander's father. Barks intended him to be married to Matilda McDuck, who was Scrooge's sister and Gladstone's adoptive mother. "Us Ganders have never sunk low enough to associate with you Ducks!", exclaimed Gladstone to Donald in "Race to the South Seas" by Carl Barks, suggesting that there is a mutual antipathy between his father's family and his mother's one.
Gladstone Gander
Goose family
Luke the Goose
Gus Goose
Other Ducks
While they share the last name as the Duck family, these characters are not related to Donald. These characters include the following.
Daisy Duck
April, May, and June Duck
Dickie Duck
Belle Duck
Dim-Witty Duck
Dexter Duck
Dexter Duck is an anthropomorphic duck who, like Gladstone Gander, contests with Donald Duck to get Daisy Duck's attention. Dexter Duck appeared in one only story thus far, "Double Date" by Tony Strobl, where he plays dirty to beat Donald and conquer Daisy. It's not suggested that Dexter is related to Donald in this story, despite they share the same surname.
Gallery
Trivia
Donald Duck is the first descendant of the three main Duck families (Duck, Coot and McDuck), a trait shared only by his sister and his nephews.
References
External links
Community content is available under
CC-BY-SA
unless otherwise noted.