The EPCOT Experience Center was a preview space located in Epcot's Odyssey Events Pavilion, housing a series of engaging exhibits that showcase the relentless innovation, energy and excitement driving the Park's unprecedented evolution. In 12-minute film presentation, there was an immersive look at the new attractions and transforming the park.
It opened on October 1, 2019 at Epcot, replacing EPCOT Legacy Showplace. On March 14, 2022, as part of Walt Disney World's 50th Anniversary celebration, EPCOT announced that the exhibition would no longer be used as a preview space.
History
In 2019, it was revealed that the Odyssey would house the Epcot Experience Center, a preview space for the park's massive expansion project. The Experience Center is essentially an expanded version of D23 Expo 2019's Epcot displays, with the park model surrounded by a screen showcasing new attractions coming to the park with projection mapping transforming the surfaces of the model for each presentation. Photo opportunities based on new attractions are also featured.
On March 12, 2020, EPCOT announced that the original version of the exhibition would be temporarily closed due to the COVID-19 outbreak's impact on Florida. However, following Walt Disney World's reopening, EPCOT announced that the updated version of the exhibition would return on July 15, 2020, and since EPCOT officially reopened, both "Spaceship Earth: Our Shared Story" as well as the Mary Poppins attraction's sequences were removed from The EPCOT Experience. When asked for comment, a spokesperson for Disney said, "As with most businesses during this period, we are further evaluating long-term project plans. The decision was made to postpone development of the 'Mary Poppins'-inspired attraction and Spaceship Earth at this time."[1]
Exhibits
These exhibits had been the main focus for the preview center, except for DuckTales World Showcase Adventure and Space 220 Restaurant: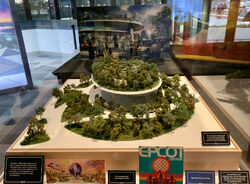 Former exhibits
Gallery
Concept Art
Exhibits
The EPCOT Experience Poster Collection
See also
References