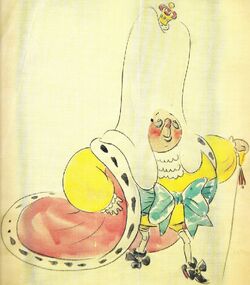 The Emperor's New Clothes was an unproduced short based on the fairy-tale of the same name by Hans Christian Andersen. It was in development twice at the Disney Studio during the 1930s; first as a Silly Symphony, then as a Mickey, Donald, and Goofy cartoon.    
Storymen Ted Sears and Merrill de Maris began developing a Silly Symphony based on Andersen's story. As in the source material, a vain Emperor who wishes to have the finest clothes in all the land is tricked by two swindlers who pretend that they are tailors who can make garmets so exsquisite that those who are incompetent and unfit for their post cannot see them. When the supposed fine cloth is presented to the royal court, none of its members admit they can't see anything, lest they be shamed for it. So, they all praise the clothes highly instead.
When they are presented to the Emperor, he pretends that he is able see them as well After supposedly putting his new outfit on and receiving much admiration from his courtiers, the Emperor decides to parade before the populace so they can see how wonderful he looks too.
Upon doing so, the swindler's charade is kept up by the townsfolk who all claim to see and love the Emperor's new clothes as well. However, a confused young lad suddenly proclaims that the Emperor is naked. These words are soon taken up by all of the people who realize that he is absolutely right. The Emperor realizes this too but simply blushes and continues on his way.
Sears and Perkins shelved this version after deciding that the ending wasn't strong enough.
An unidentified team of storymen reworked the story into a vehicle for the famous trio in which they are poor but productive tailors who have befriended all the animals in the nearby forest. One day, the Emperor visits their shop and demands that they pay their overdue taxes. Not wanting to be evicted, Mickey spins the tale of the miracle fabric, which Donald and Goofy subsequently pretend to start weaving. The Emperor orders a suit made out of it and the story continues on as in its' source material. However it ends with Mickey, Donald and Goofy's animal friends making a real suit for the Emperor that is made of feathers, flowers, etc.
The storymen eventually began to feel that audiences wouldn't buy all of the deviations from Andersen's story, such as changing the deceptive tailors into victims.
Gallery
Community content is available under
CC-BY-SA
unless otherwise noted.