"The Enemies" is an episode of Wander Over Yonder.
Synopsis
While trying to reunite both halves of a sword, Lord Hater runs into Sir Brad Starlight, who is attempting to do the same. Their rivalry over this is soon interrupted by Wander who's playing Hide and Seek, so the two work together positively and negatively to see who can capture him.
Plot
At the Lost Temple of Tagathoria, Lord Hater seeks the light half of the Sword of Synergy, which he plans to combine with the dark half he stole from the Warrior Monks of Malakar. However, when he approaches the place where the half should be, he finds that Sir Brad Starlight has stolen the light half of the sword and the two duel it out. Wander comes in and says he is playing hide-and-go-seek with Sylvia and invites them to play as well. Hater and Brad are surprised that the both of them see Wander as a common enemy since Wander destroyed Brad's wedding and thwarted dozens of Hater's plans, one of which also happens to include his wedding to Sylvia in disguise. Hater reluctantly offers a partnership with Brad to destroy Wander since they share a common enemy. However, they soon find themselves to be playing hide and seek, much like Wander wanted them to do.
In the end credits, Lord Hater and Sir Brad Starlight are immaturely slapping each other. At one point, Lord Hater accidentally hurts Brad and asks if he is okay, only to anger Brad and make the fight continue.
Cast
Trivia
Sylvia counts to 5,000,000 while Wander plays "hide-and-seek". This amounts to roughly 1,388 hours or 57 days of counting by Earth standards.
Gallery
v - e - d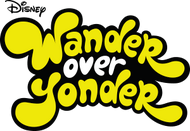 Organizations/Groups
Lord Hater's Army • Insurgent Generals • Wander and Sylvia • Bounty Hunters • Lord Dominator's Army • Galactic Villain Leaderboard • Emperor Awesome's Army
Locations
Lord Hater's Spaceship • Binglebopolopolis • Doomstone • Baaaaa-halla • Phunulon • Ballzeria • Buster • Doom Arena • Planet Ziziks • Flendar • Lord Dominatior's Spaceship • Arachnomorph Homeworld
Community content is available under
CC-BY-SA
unless otherwise noted.