"The Flying Crown" is the twenty-eighth episode of the Disney Junior animated series, Sofia the First. It premiered on April 11, 2014, and is the third episode of the second season.
Plot
In the flying derby, Sofia and James are racing against the riders from Weslock and holding last place. Sofia instructs James to give her a wing blast. James drops back and does so, enabling her to fly ahead and take the lead. Soon, both Sofia and James are in the lead but Weslock's team is catching up. Sofia suggests James races ahead while she holds them off by blocking their way with a double swerve. James, with a huge lead, crosses the finish first with Sofia second, winning for Royal Prep. The audience cheers for Sofia and James' victory except Prince Hugo who is sulking beside his older brother, Axel. Everyone is delighted that Sofia and James are now in the championships and the next race will be for the Flying Crown trophy against the riders of the Junior Knights Academy. The Junior Knights are tough, and they win every year. James believes they can win and starts to imagine the team plays they will do until he trips on a rock and sprains his wrist. Since James can't ride in the championship race, Sir Gillium brings in Prince Hugo to take his place as Sofia's teammate. Sofia hopes they can make amends and put aside what happened in the tryout race by working together, but Hugo only states they don't need team plays to win, just him crossing the finish line first.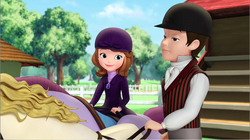 The next day, Sofia and Minimus meet up with Hugo and his new flying horse Electra, whom Minimus is nervous about while Sofia is more nervous about Hugo himself. Sir Gillium shows up with James as an assistant coach and tells Sofia and Hugo a few things about the riders of Junior Knights Academy. They are known to be the toughest opponents Royal Prep has ever competed against. If Sofia and Hugo are going to win the Flying Crown, they have to practice their team plays. Sofia asks Sir Gillium about a new team play she wants to try with Hugo called the flying slingshot, the most difficult play in flying derby where in mid-air the riders have to line up side by side, reach across their horses and grab hands, spin in a circle and then the biggest rider has to sling the smallest rider forward at just the right moment. Sofia hopes they could practice that play, but Hugo has no interest in team plays and proudly rides off to practice alone. Minimus tells Sofia they don't need him, but she states that they do and that's the problem.
Later in the day after school, Sofia heads for the stables just as Amber notices something's bothering her. Sofia tells her friends Hugo doesn't want to practice with her and she doesn't know what to do, but she knows she can't give up on this. Amber tells Sofia this championship is the school's chance to finally win the Flying Crown and she must not let Hugo ruin it. Just then the two riders from the Junior Knights Academy, Squires Vaughan and Vance, arrive at Royal Prep a day early to practice on the course. When Hugo meets them, Vaughan challenges him to a small race around the school and easily beats him. Hugo is upset over losing again, but he still doesn't want to practice team plays with Sofia. She tries to cheer him up by singing the cheer, but it only makes him feel bad and walks away. Electra explains to the little Princess that everyone in Hugo's family have been cheered for winning the Flying Derby, except him. Sofia begins to understand that Hugo is feeling left out and wants to have the same experience. She manages to reason with him, telling him that she knows his father was on the flying derby team when he was at Royal Prep. Hugo also says that his brother, uncle, and grandfather were also on the team when they were each at Royal Prep, and Sofia knows that none of them have won the championship race or the Flying Crown. She tells him that they have a chance to do that. If they do the flying slingshot, not only will they win the championship race, but Hugo will be the first in his family to win the Flying Crown and the school will cheer for him. Thinking about this, Hugo finally agrees to try the flying slingshot with Sofia. Since it's getting late, the Prince and Princess agree to practice early in the morning before the race. Meanwhile James is given a new job to groom the flying horses and gives Minimus and Electra a scrub down only to end up making a mess in the stables. Sir Gillium finally comes up with the perfect job for James: Royal Prep's mascot.
The next day, Sofia and Hugo are ready to do some last minute practice on the course. Since Hugo is bigger and stronger than Sofia, she'll need him to sling her. However, Hugo points out that it'll result in Sofia crossing the finish line first, and Sofia says only one of them has to cross for the team to win and that it doesn't matter to her if Hugo crosses first. Hugo foolishly decides to take advantage of this by having Sofia sling him. The first try doesn't go well as it turns out Sofia is only strong enough to fling Hugo off his horse. Again and again no matter how many times, Sofia keeps flinging Hugo off his horse. After landing in the fountain and having his buttons pushed by his brother, Hugo quits by throwing away his team jersey and walks away in frustration. Electra is disappointed by him and tells Sofia and Minimus that Hugo's biggest problem is that while he's a good rider, he doesn't know the first thing about being a good teammate, and therefore doesn't understand what being a true champion is all about. Sofia sees James dressed as the team mascot and making a lot of noise, which sparks an idea for her to help inspire Hugo.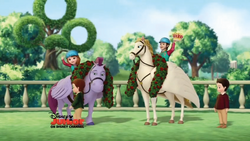 It is now time for the Flying Derby championship and the first team to cross the finish wins the Flying Crown. The defending champions Vaughan and Vance arrive on the course, but Sofia and Hugo don't show up when they are announced. James knows how to get the team to come out. Sofia finds Hugo hiding in the stables. She tries to tell him what he's doing is selfish and she can't race without him but Hugo is too upset to listen. However he does listen when he hears the crowd making a lot of noise. Sofia brings him out to the course, and it turns out that James and the crowd are singing the cheer for Royal Prep's team much to Hugo's surprise. Listening to the lyrics of the song/cheer, Hugo finally understands that it's not all about winning; it's about being part of a team. Electra gives Hugo his jersey back and he puts it back on ready to race with Sofia. At last, Sofia and Hugo arrive on the course and join Vaughan and Vance, who are jealous of Hugo for his budding friendship with Sofia. When Flora, Fauna, and Merryweather give the word, the four riders take off with Vaughan and Vance holding an early lead. Sofia and Hugo try to pass them as they go under the bridge, but Vaughan and Vance perform the double swerve, making it hard to get around them. Sofia gives Hugo a wing blast allowing him to fly ahead but it's not enough to catch the Junior Knights. After passing the bell tower, Sofia and Hugo are running out of time as they get near the finish. Sofia says they need to try the flying slingshot which Hugo agrees, but only if they do it right: he insists on slinging Sofia since she's too little to sling him, and it's the only way the team can win. Hugo and Sofia line up side by side, reach across their horses and grab each other's hands. With everyone watching in worry, Sofia and Hugo begin to spin in a circle while in mid-air and then at the right moment Hugo successfully slings Sofia and Minimus into the lead, and Royal Prep wins much to the surprise of Vaughan and Vance. Sofia and Hugo are rewarded with the Flying Crown and the crowd cheers on for them. Amber compliments the team on their success, and Axel proudly tells everybody that Hugo takes after him. But Hugo reminds Axel that he takes after Sofia, who blushes happily, pleased that she and Hugo are friends now.
Songs
Cast
Trivia
This is the second episode where Hugo played a more active role, his first was in "Just One of the Princes" where he was portrayed as a bully to Sofia and James.
This is the second time where Sofia teaches good sportsmanship, the first time was in the episode "Tri-Kingdom Picnic".
This is the second time that Amber congratulated Sofia on winning but ignored James' victory, the first time was in "Just One of the Princes".
This is the first episode that Prince Hugo's father King Garrick and older brother Axel are introduced.

Garrick's name isn't revealed in this episode. His name is revealed in the season 3 episode "Lord of the Rink".

The Princesses at Royal Prep cheerlead in this episode.
At the end of the episode, Hugo turned into a better person thanks to Sofia.
Princess Vivian, Princess Mae, Princess Penelope, Princess Hildegard, and Princess Clio make their first re-appearance in the second season.
This is the third time Sofia doesn't wear her signature gown. This is also the third time she is seen wearing her flying derby practice uniform.
This is the second time Sofia doesn't wear a tiara throughout the episode, the first was in "The Buttercups".
Colin Ford who originally voiced Hugo in the first season, now voices Prince Axel while Grayson Hunter Goss took over the role of Hugo himself.
James', Sofia's, and Hugo's team jerseys were different from the ones in "Just One of the Princes".
Prince Hugo mentions his uncle and grandfather in this episode.
During the song Huzzah! Huzzah! the famous motto from The Three Musketeers "All for one, and one for all" is heard.
The song Huzzah! Huzzah! is the second song to be masked by the chatter of characters, the first being Who's That?
This is the second time James doesn't wear his signature outfit throughout the whole episode, the first being "Holiday in Enchancia".
This is the second time a song is sung three times in the same episode, the first being the Enchancia Anthem in "The Amulet and the Anthem".
This is the second time someone is flung into the RPA fountain, the first being Sofia in Once Upon a Princess.
Moral: A true champion is always a good teammate.
Goofs
When Sofia and Hugo got off their horses, Hugo was holding the Flying Crown. However, when Amber complimented him and Sofia on how they were in the race, the Crown disappeared, and Hugo had his hands behind his back. But when Axel came up to him, he was holding the Crown again.
Hugo was already wearing a jersey before he even knew he was needed on the team.
James' and Hugo's blue helmets have buckles, but Sofia's blue helmet doesn't, and neither do the helmets they wear with their practice clothes. All helmets should have buckles for safety reasons. However, Sofia's blue helmet is actually a recolored version of her original dark purple one.
Axel made a reference to "Just One of the Princes" despite not having appeared in that episode.
Keith Ferguson voiced the Announcer and King Garrick in this episode, but Ferguson was only credited as the Announcer.
Axel stated that his and Hugo's whole family was going to be watching him (Hugo) in the race, but only he and Garrick were seen at the race.
When Hugo emerged from the fountain, he was dripping wet. But when he went up to Axel, he looked perfectly dry, and Axel didn't complain about getting his hands wet when he jabbed Hugo on the shoulders. Hugo's whole body may have looked dry, but his jersey was completely wet when he took it off.
Sofia held out her left hand when she said, "Come on." But when she was taking Hugo out to the course, she was holding his hand with her right hand.
Gallery
v - e - d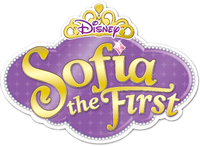 Characters
Princess Sofia • Queen Miranda • King Roland II • Prince James • Princess Amber • Princess Hildegard • Cedric the Sorcerer • Wormwood • Baileywick • Robin • Mia • Clover • Whatnaught • Goodwyn the Great • Winifred the Wise • Jade • Ruby Hanshaw • Princess Clio • Prince Zandar • Princess Jun • Prince Hugo • Minimus • Princess Vivian • Crackle • King Marcus and Queen Cecily • Trolls• Lucinda • Prince Jin • Magic Carpet • Jasper • Prince Khalid • Meg and Peg • Madam Ubetcha • Prince Desmond • Miss Nettle • Sir Gillium • Professor Popov • Helen Hanshaw • Oona • Queen Emmaline • Cora • Plank • Aunt Tilly • Wilbur the Wombeast • Sven • Emperor Quon • Empress Lin-Lin • Rex • Prince Axel • King Garrick • Electra • Vaughan and Vance • Marla • Sir Bartleby • Sir Maxwell • Sir Finnegan • Gwen • Chef Andre • Sofia the Worst • Lady Joy • Lord Gilbert • Wu-Chang • Jade Jaguar • Sir Dax • Boo • Princess Lani • Mamanu • Kamea and Halia • Praline • Freedo • Princess Zooey • Princess Astrid • Slickwell • Greylock the Grand • Princess Ivy • Dragons of Enchancia • Winter • Whiskers • Glacia the Ice Witch • Elliot, Amy, and Kurt • Tizzy • Master Erwin • Bryce Twigley • Button, Benngee, and Brody • Mossy • Carol of the Arrow • Jane • Princess Kari • Miss Elodie • Fluke • Slim • Shelly • Flip • Mantacorn • Onyx and Opal • Wendell Fidget • Mrs. Fidget • Saffron • Muck, Gunk, and Grime • Spruce • Ballerina • Mazzimo • Prince Roderick • Gavin • Kazeem • Sergeant Fizz • King Habib and Queen Farnaz • Chief Gnuckles • Flinch • Grotta • Elfonso • Elfred • Milo the Snake • King Henrik • Cordelia the Conjuror • Calista • Morgana • Crispy • Barley • Sassofras • Professor Zacharias Fleeber • Grand Mum • Gemina and Argus • Count Barnstorm • Sir Oliver • Sir Jaxon • Willawing • Kai • Princess Charlotte • Morris • Zinessa • King Philip and Queen Everly • Lily • Indigo • Marty and Maple • Mandy • Grimtrix • Wriggley, Pumpkin, and Chester • Skye • Piccolo • Baron Von Rocha • Professor Pecullian • Sea Monsters • Malachite and Fig • Omar • Prisma • Azurine • Orion • Vega • Chrysta • Sizzle • Cinder • Singe • Mare of the Mist • King Roland I • Roma • Giggling Goblin • Captain Quivers • Twitch • Vor • Nerissa


Elena of Avalor: Princess Elena • Princess Isabel • Francisco • Luisa • Shuriki • Alacazar • Zuzo • Mateo • Migs, Luna, and Skylar • Rafa • Chancellor Esteban • Armando • King Raul and Queen Lucia • Naomi Turner
Guest Characters: Flora, Fauna, and Merryweather • Cinderella • Jasmine • Magic Carpet • Belle • Ariel • Aurora • Snow White • Mulan • Rapunzel • Tiana • Merida • Olaf • Merlin • Archimedes