"The Force is what gives a Jedi his power. It's an energy field created by all living things. It surrounds us and penetrates us; it binds the galaxy together."
The Force is a mythical energy field in the Star Wars universe; used by both the Jedi and the Sith for power. Users of the Force had the potential to have any ability it bestowed, though they needed to be skilled or powerful enough to use such abilities to better extent. The Force can enhance natural, physical, and mental abilities, including mobility, such as during a "Force jump" or to slow a fall from an otherwise dangerous height and accuracy, which can enhance marksmanship. Force powers that are demonstrated include various psychic abilities and enhanced physical attributes.
As shown in Star Wars Rebels, certain creatures have also been shown to have an affinity for the Force, such as the Convor, a type of bird. What this affinity is is not known. There also exist physical embodiments of the Force, such as the Bendu, who represents the center of the Force between the Light and Dark sides. Other physical embodiments of the Force, each representing a different aspect (i.e.; The Father (representing order and balance), The Daughter (representing the Light side) and The Son (representing the Dark side), also once existed, but have since become deceased due to the actions of the Jedi, in particular, Anakin Skywalker. Prophecies in the Force also exist; the prophecy of the The Chosen One, an individual meant to bring balance to the Force was one of these, and was fulfilled when Anakin Skywalker (the prophecy's focus) destroyed the Sith, bringing balance to the Force once more.
Both the Light and Dark sides of the Force are technically neutral. Individuals who possess the power or potential to use the Force are known colloquially as Force-sensitives, Force-wielders or Force-users. Most practitioners of the Dark side of Force are known to possess yellow colored eyes; as there natural colored eyes change to yellow, it is unknown if this is a side effect of using the power of the Dark side of the Force, or due to their negative emotions, such as anger, rage, fear and hatred.
List of Known Force Powers and Abilities
Psionic Powers:
Mind trick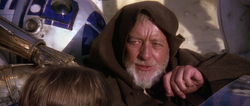 A form of mental manipulation, Mind tricks are the hypnotic ability to influence and control weaker willed individuals using verbal ideas, orders or suggestions, which the victim then repeats and then acts upon without hesitation. Some users could even control animals by reaching out empathically with the Force, though they did not need to use verbal ideas, orders or suggestions. If the user used this power with others, they would be able to overwhelm and control the minds of people with strong wills, however, this variant was, if misused or prolonged, capable of destroying a person's mind, leaving them insane. A highly powerful and skilled can have full control over a victims thoughts, memories, and emotions to an extent. A similarly skilled and powerful user can manipulate the motor functions of others against their will.
Mental Sedation
Skilled users in the Force can use their mental abilities to sedate others telepathically. An advanced version of the Mind Trick, it allows a skilled or powerful user to command a user to become tranquil, dazed, stunned, or unable to act or feel. A user can even induce sleep in a victim and cause a victim to instantly collapse into unconsciousness. This ability requires focus, mental balance and discipline, with the user also being mentally centered and calm. A user can remove panic from a victim with a command, as well as physical contact or a hand gesture.
Extrasensory Perception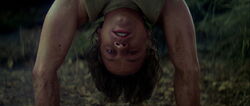 The Force gives its users with discipline and subtlety of mind an extra sensory awareness that the user can use to gain, analyze, and interpret direct visual information about an people, location or physical event in the future, present or past. Users gain psychic and supernatural abilities of precognition, retrocognition, intuition, telepathy, clairvoyance, remote viewing, scrying, dowsing, psychometry, divination, enhanced empathy xand the ability to experience visions. They can sense and scan the minds, thoughts and emotions of others and the nature of memories that others around them are experiencing. Their abilities allow users to sense the presence of others, especially other Force users and even track them. Blood relations can further enhance these abilities. Also, users could feel negative occurrences happening or sense that danger would personally effect the user in the future. Unfortunately, this awareness is limited and what information that is found is not always in full detail and in fragments. Those who where not skilled with their enhanced awareness would possibly not experience such vision or senses at all.
Alternatively, users can feel immediate danger in their present, usually when it is in their vicinity and can react to it quickly. This gives them instinctive reactions that allows them to easily dodge or counter danger. Sense abilities allowed Force users to immerse themselves in the environment, Which can allow them to use the Force to operate as their senses when their own physical senses are strained, blocked, or impaired. Such way resulted in Jedi learners where helmets that blocked their eyes and had them use the Force to see and react quickly during lightsaber training. Force users could combine their mental and extra sensory powers to enhance them, to the point of creating clearer visions or overwhelming strong minds and controlling them. This ability can be strengthened if users combine their powers with other users, thereby enhancing the clarity of their visions and their ability to interpret them. Additionally, visions of the future were known to happen while a user was dreaming, though this was rare for some.
Telepathy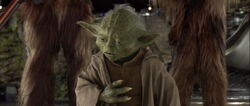 Such an ability allowed a user with discipline and subtlety of mind to mentally transmit or receive information to and from another. Force user, even from vast distances, including from one end of a galactic system to another. A strong enough transmission could allow a user to project their own ideas and will into that of a victim with a weaker mind and therefore control the victims mind, though an order or idea needed to be verbally conveyed to the victim. This hypnotic suggestion, or mind control, came to be called the Mind Trick. Some users could even forcibly extract and transmit information, thoughts, ideas, orders, and visions to and from others minds, which could be painful for the victim. The ability is commonly known as a Mind Probe, while trained Force users, and possibly more mentally resilient people in general, can resist this mental manipulation. Users can feel memories and feelings accompanied by them, to the point where the user can scan the thought and memories of those close to them, especially other Force users. Blood relations can further enhance these abilities.  Sense abilities allowed Force users to better immerse their senses into their environment.
Telekinesis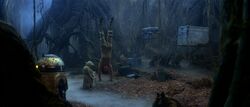 The general ability to influence and manipulate a physical system without physical interaction through the control of the strength or energy attributed to physical action or movement, triggered by the users willpower, as well as being dependant on and controlled or affected by physical, mental or emotional strength, stamina, self control, awareness, intention, calmness, sobriety, alertness, and consciousness. For some it was a simple extension of their own physical strength and force and was limited to the amount they themselves could accomplish with physical action, or even be a compilation of all the potential strength and force the user could physically muster. It is also necessary for a user to let go of the distinction of size, weight, number of the things they are manipulating. The abilities strength, magnitude and intensity could be overwhelmed and canceled out by greater physical forces. It is the ability for a Force user to create, distort and manipulate motion, momentum and overall mechanical energy, as well as other physical and applied forces, such as kinetic energy, friction, pressure, vectors, tension and inertia.
For many users, it is harder to affect things like a thrown, falling, or flying object, or an object moving with great force of its own. The effect will always wear off eventually, much like the exhaust of stamina or endurance, and the user ay be limited on how many times it can be used or how many targets it can be used on. If unaware of a targets presence or loss of interest upon maintaining control, the target is no longer influenced by the power. Also, the user may be unable to focus upon multiple targets for long periods and ay be unable to manipulate a target when out of line of sight or being unable to hear or otherwise have awareness of the targets presence or position. The ability can be highly energy consuming and draining, especially when using it on something exerting greater force, such as heavy objects, being pulled by gravity, and moving distant objects. Focusing on certain objects can cause mental stress and therefore, the body might also affected. Though executing the power is less time consuming than physical exertion, the user still needs time to concentrate on a target animate. The further or the heavier the target or the more complex or intense the execution of the ability, the more time needed to do so.  Such things can render the power unreliability, If experiences affect the mind, attention, focus and concentration can become highly difficult. Experiencing emotional shock can also temporarily decrease the power's reliability. Alternatively, intense or even aggressive feelings, such as fear, anger, hatred, grief, and pain, to their highest levels can cause this ability to become uncontrollable. Therefore, emotions can affect the ability and the users control over it and can involuntarily act up when the user has lost mental or emotional control to great extent.
Telekinesis is literally mind over matter, in that a Force user could potentially manipulate even large star ships in accordance to their will, which could be achieved by letting go of the distinction of the object's size, mass, or weight, though this was difficult for most users, and therefore limited uses to simply nudging, pushing, shoving, propelling, striking, pinning, grabbing, restraining or otherwise apply great force on a person without physical contact, usually as a way of attack or telekinetically touching, pressing, grabbing, lifting, summoning, expelling, propelling or levitating small to medium sized objects or mechanisms, the latter being buttons, levers, switches, while some can manipulate internal mechanisms, such as locks. This limitation may cause telekinesis to manifest as an extension of the users own strength, meaning all the strength they have may be used to telekinetically affect matter. It may also limits uses to short burst of strength, which amplified by will and awareness of a target, can cause great feats of telekinetic strength. For a sufficiently skilled or powerful practitioner, the size, number, or weight of the target did not matter, with some users being able to manipulate large structures with this power. It is utilized through intense concentration when a practitioner began using it, but it became much easier with time, learning and practice. In addition, telekinesis could be used to amplify the sense of touch beyond physical contact and allow the users to feel their surrounds in detail without touching any of it with their skin. This could allow a user to grip whatever they could telekinetically touch and feel. The user could also telekinetically feel what they did not see, allowing them to feel the inside of an object, or even a living creature, as well as other fundamental physical forces, or vibrations in their vicinity. 
Basic and weaker uses are summoning or repelling small objects, cease the motion and mobility of a moving object, causing objects to fly or float in the air, manipulating inner workings and controls of technology, as well as of certain mechanisms, such as a door, telekinetically use controlling mechanisms such as switches, buttons, levers, or power source and control technological systems, including lightsaber controls, causing objects to fly or float in the air, slow a fall from an otherwise dangerous height, and physically moving others with the intent of harm, which could physical strike them, or simply knock them down.
Force push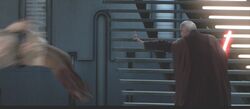 Telekinesis results in variants and used in an offensive or defensive manner. A primary variant Force push, utilizing a physical impulse and explosive force in a certain direction, unlike its sub-variants Force Wave and Force Repulse, both of which are multi directional. It can be used to varying degrees, from simply moving or nudging a targets to physically repelling the target, sending them flying through the air and causing serious injury. Using this power with others can enhance its effects beyond either of the participants natural ability. Using this ability is usually accompanied by loud rumbling or crashing noise, possibly due to expansion of rapidly heated air, just like thunder. Truly gifted practitioners could generate a concussive blast that would radiate from them for dozens of meters in all directions, detonating with the force of a conventional explosive. With practice, a skilled Force user could increase the range and arc of the blast, creating a blanketed wave of physical force instead of a focused impulse.
Force barrier
Force users could shield themselves from incoming matter with telekinesis, resulting in a Force barrier or Force field. It created an invisble field that was as strong as the users willpower and calmness, as well as alertness, focus, attention, concentration, visibility, and overall awareness. While not tangible and, usually, not being airtight, strong barriers could stop physical objects from hitting the user or anyone near them. Unfortunately, the barrier can be overwhelmed and penetrated by physical forces stronger than itself and can usually only protect against physical matter of almost any type, leaving a user vulnerable to many types of energy based attacks. In combat, these barriers were capable of absorbing and defending against a wide variety of physical and some energy attacks usually physical forces weaker than itself. Force barriers were only used as defense and couldn't be used as a wall against attacks. Depending on the strength, sobriety, calmness and awareness of the individual, the barrier could only withstand a few attacks before collapsing. Also, these barriers could be used as or transformed into a Force Repulse or Force Wave.
Force choke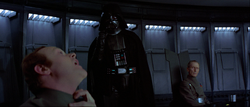 A variant of Force grip, it is a technique commonly used by Dark Side users due to its malevolent and brutal nature. It is used to grip, squeeze, or crush the neck or throat and suffocate, choke, or strangle the victim with the Force, rendering them unable to act. Sometimes, the person would be lifted off the ground by the neck. The user did not need to squeeze or crush the neck or throat to do this, as they could simply restrict or block air ways and therefore restrict, disrupt, or even cease the victims breathing, as well as quickly exhausting the victims remaining air, thereby suffocating them. Using this ability is usually accompanied by loud rumbling like thunder. The power is generally used at close range, but in rare instances the target could be choked at a greater distance if they are seen through a viewscreen. Depending on the degree or power applied, the effects of a Force choke would result in either death, unconsciousness, or simply leaving the person gasping but still conscious. Alternatively, this ability could be utilized without using dark, negative or aggressive emotions.
Electronic Manipulation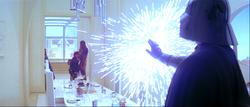 A Force user of highly advanced skilled and power had the ability to dissipate, convert, diffuse, channel, assimilate, negate, absorb, deflect, harness or redirect concentrated energy such as blaster bolts, lightsaber blades, or even Force lightning, with physical contact. Such abilities were called Tutaminis, otherwise known as Force absorb, or Force deflection, the latter purely entailing shooting the captured energy back or channeling it away completely. This ability can allow a user remove the magnitude and vectors of an energy that comes into physical contact with them. A user could touch or catch this energy with their hands and then manipulate it by either dissipating, deflecting or absorbing it into themselves, the last effect could actually partly heal or otherwise strengthen the body to some extent. While some could be overwhelmed by the energy they tried to manipulate, others managed to control it. Some users could even convert the energy they held into another energy, such as turning a blaster bolt into electricity. Force lightning is one of the more difficult energies to deflect or dissipate due to its purely degenerative nature. Some Force users, such as Darth Vader and his grandson, Kylo Ren, could also use this power to freeze blaster bolts in midair or completely dissipate them.
Force lightning
A Dark side power, this ability created or shot blue or purple electricity from the hands or fingers. With its purely degenerative nature, the electricity could deform, shock, electrocute, and otherwise severely harm the victim, with such harm potentially being fatal. The amount of power, lethality, and overall shock from the electricity could be determined by the user, who could use it to cause agonizing pain to the victim. It could simply be used to stun or knock out a target, as well as physically repel them in the same manner as Force push, all the while delivering an incapacitating shock to the target. Skilled or powerful Force users could deflect, absorb, harness, negate, disperse, dissipate, or redirect the electricity with physical contact, such as touching or catching it with their hands. Lightsabers could also be utilized to deflect Force lightning and suffered no ill effects to their inner workings from deflecting it.
Taming beasts
Force users could utilize their powers to tame or mentally connect with various types of animals in order to control them or communicate with them. However, this power could only be mastered by fully opening oneself to the Force and letting go of one's inhibitions. Animals such as reeks, fyrnocks, purrgils and Tibidees were among the many animals Force-users could connect with. Some animals, such as krykna spiders, could not be controlled and remained dangerous to those who tried to connect with them. Skilled practitioners, such as Ezra Bridger and Kanan Jarrus could understand the creatures they connected with, and would use the Force to communicate with them.
Physical Abilities:
Augmented Vitality
Force users of any age have naturally high stamina, endurance, strength, overall physical capabilities throughout their lives when using the Force, to the point where all or most users have naturally high acrobatic abilities, even while disabled or elderly. These abilities remain potent with little or no physical maintaining.These abilities remain potent with little or no physical maintaining. This makes them able to physically exert themselves for hours in any way, though they can eventually become exhausted and need rest and sustenance. As previously stated, skilled and powerful users can possess unnatural vitality and physical abilities even in old age or while being severely crippled or otherwise disabled. Not even the degenerative power of Force Lightning can weaken this vitality.
Augmented Strength
The ability for the user to generate far greater force through physical contact and exertion. Force users can use this, and even combine it with telekinesis, to jump several feet in the air, as in a Force Jump and to not be affected by a fall from an otherwise dangerous height or at great velocity. These abilities remain potent with little or no physical maintaining. Using telekinesis, a user can reduce or enhance their own momentum and motion, and therefore exert greater force. They can also use it to some extent in their attacks, to enhance their striking force, to the point were a skilled and powerful user could harness their power to strike or kick a target and send them flying backwards without much physical exertion. A skilled and powerful user can resist weight to some extent and can lift objects and people several times their own weight with ease. In addition, many skilled and powerful Force users can exert themselves for longer periods than normal while not being truly strained by effort. Intense, uncontrolled and aggressive feelings such as distress, pain, anger, hatred, frustration and rage could enhance physical and telekinetic strength and performance, but mostly for Dark Side users and at the cost of awareness, reaction time, mental strength, and analytical thinking capabilities, as the user was overwhelmed by their intense and controlled feelings and unable to think clearly, resulting in overall poor judgement, especially in combat.
Augmented Mobility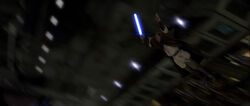 Force users can naturally have enhanced speed, agility, reflexes, dexterity, balance, equilibrium, coordination, and momentum. They need to develop such abilities through establishing a stronger connection to the Force. These abilities remain potent with little or no physical maintaining. Users are able to perform acrobatic and gymnastic feats with ease and develop the ability to do them by simply using the Force. Most users therefore had enhanced, sometimes inhuman jumping, leaping, and lunging abilities. Their physical abilities allowed Force users to wield the lightsaber, a highly unweildy weapon known for its odd balance due to the usually weightless blade and omni-directional cutting edge, with almost inhuman efficiency, as well as precision and accuracy, though both of these required a user that controlled their emotions and thoughts and did not give way to intense, aggressive, and uncontrolled feelings.
Augmented Resilience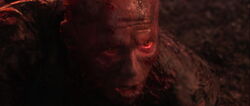 Users of this have great stamina, endurance, tolerance and overall survivability. Physically, a skilled and powerful user is less vulnerable to physical damage and has a slightly greater resistance and tolerance to injury, stress, pain, sickness, exposure, lack of air, or otherwise harmful trauma, temperatures, exposure to harmful environments, or toxic substances, all the while still functioning normally and slightly undeterred. They could withstand and survive with the effects of such trauma, unsafe environments and abstinence for longer periods and with less recovery. They can withstand physical and mental pain and trauma and can even resist its effects if they are strong or skilled enough in the Force. A skilled user can still fight and act as if uninjured, despite great pain. Since Dark Side users are empowered by strong and negative emotion, feelings of pain can actually make them stronger, both physically and telekinetically for a time, though it can also make them fight with less thought and make them vulnerable to more skilled users. In most extreme cases, users are able to survive for days or longer in isolation without sleep, shelter, food or water by relying on the Force alone. A user was even able to influence the amount of air their body needed and survive without it for extended periods of time. Despite this, a Force user could not become invulnerable through the Force, though Dark side users could learn to siphon energy from other powerful Force users and significantly prolong their lives. Age does not seem to hinder any such abilities at all for most users.
External Links
Community content is available under
CC-BY-SA
unless otherwise noted.