"
The Fremergency Fronfract
" is a Season 2 episode of
Wander Over Yonder
.
Summary
Lord Hater is at the dentist because he chipped his teeth and blames it on Wander. The dentist gives him an electric squid-like creature's treatment to knock him out. The dentist's assistant asks him for his emergency contact, but Hater once again woozily says Wander's name. When Hater regains consciousness, he sees Wander and Sylvia in front of him. Surprisingly, Hater hugs both of them and asks them what they are doing in the office, and Wander informs him they are picking him up since he listed Wander as his emergency contact. Hater surmises that if Wander is his "fremergency fronfract", they must be friends. The dentist informs Wander and Sylvia that the painkillers may have had a side effect on his brain and instructs Wander to make sure Hater gets home safely.
Wander is well-aware that Hater is not really his friend, but is still lingering from the effects of the drugs. However, Wander suddenly has an idea to get Hater to realize how much fun friendship really is. But Sylvia is against this idea. Hater then sees a Gelatinous Bob's and decides to have some fun. Hater bursts into the arcade and everyone there screams at his presence. Hater gets some ice cream, but gulps it in one bite and gets another toothache. Wander decides to play some games with Hater. Sylvia begins documenting this on her cell phone. Wander helps Hater win a skull ring in the crane game.
Some time later, Wander takes Hater to a crystal planet and they witness the reflecting lights. Hater becomes rather poetic at this sight. Sylvia tells Wander they have to take Hater back.
End Credits
TBA
Songs
Gelatinous Bob's
Hater Makes It Better
Trivia
It's revealed Sylvia has her own blog.
At the beginning when the title appears, the usual banjo strum is played off-key.
Allusions
Chuck E. Cheese's - Gelatinous Bob's is a parody of this popular pizza/arcade chain.
Elvis Presley - The first part of "Hater Makes It Better" is sung like this popular singer known colloquially as "The King".
The Theme Song - The second part of "Hater Makes It Better" is a parody of this show's title sequence.
Harry and the Hendersons - The part where Wander lets Hater go is a parody of this film.
Errors
The posted Tumblr image of Hater with yellow eyes and faded gloves and horns was confirmed to be a coloring error.
When Hater hugs Wander and Sylvia as the title appears, Wander's star button becomes detached from his hat's belt.
International premieres
Cast
Gallery
References
v - e - d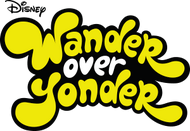 Organizations/Groups
Lord Hater's Army • Insurgent Generals • Wander and Sylvia • Bounty Hunters • Lord Dominator's Army • Galactic Villain Leaderboard • Emperor Awesome's Army
Locations
Lord Hater's Spaceship • Binglebopolopolis • Doomstone • Baaaaa-halla • Phunulon • Ballzeria • Buster • Doom Arena • Planet Ziziks • Flendar • Lord Dominatior's Spaceship • Arachnomorph Homeworld
Community content is available under
CC-BY-SA
unless otherwise noted.