"The Funk" is an episode of Wander Over Yonder.
Synopsis
An invasion to a planet is put on hold when Lord Hater is bored with all the same things they do. Peepers attempts to cheer him up with various methods to get him back to his usual self, unaware that Hater will soon be taught a lesson because of this.
Plot
Commander Peepers and the other Watchdogs invade a planet called Cluckon and Peepers introduces Lord Hater with a huge entrance. He does it twice and Hater is still not there. Peepers then comes inside Hater's room and he is on his bed covered in a blanket. He tells Peepers (he starts mumbling for a few times) that he's not in the feeling of being evil anymore.
Commander Peepers commands all the watchdogs to come back into the ship and tell the Cluckon citizens (which are chickens) that they are still almost conquered, which surprises them. Peepers and the watchdogs do many things to cheer Hater up (blowing up a moon, terrorizing people, awaking demons, etc) but all their attempts fail. Later, Lord Hater tells Peepers that when he first started wanting to be evil when he used to just pick on the "weak and defenseless", but is now tired of his new responsibilities and others things. Peepers soon thinks of an idea that will likely get Hater to be evil again.
He fixes up Hater's old van and brings him at night to these unusual-looking and seemingly dumb aliens called Mooplexians. Hater and Peepers then do many immature pranks on them (spitballs, water bucket trick, loogies, etc). In the morning, Lord Hater feels evil again and shouts out the same introduction Commander Peepers said earlier this episode and has his big ego again. The aliens then fly up to the skies and one of them uses their stems to connect it to Lord Haters and Commander Peepers heads.
He tells them that they have high intelligence, will forever learn endless knowledge, and spend their real lives in their minds. They flick Hater and Peepers into the van and go back into their brainless states. Wander and Sylvia arrive on their planet since Wander seeks their wisdom, but Sylvia is in disbelief over how stupid they seem.
End credits
Lord Hater and Peepers are in Hater's room on his bed still traumatized by their experience with the Mooplexians.
Cast
Songs
Goofs
As Peepers talks with Hater after putting on stand-by the invasion, none of the Watchdogs behind them have arms.
Trivia
The title refers to the state of severe depression, which fits well with Hater's mood throughout the episode.
This is the first time Lord Hater actually succeeds in a scheme (when a moon is blown up).
Hater hides in the pink blanket the Watchdogs gave him in "The Gift 2: The Giftening".
The Cluckons resemble rooster versions of Colonel Sanders, the mascot and founder of Kentucky Fried Chicken, the popular fast food chain.
Wander references the last words of Jesus Christ at Luke 23:34 when he says, "Forgive her. She knows not what she does."
Gallery
v - e - d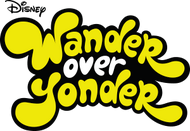 Organizations/Groups
Lord Hater's Army • Insurgent Generals • Wander and Sylvia • Bounty Hunters • Lord Dominator's Army • Galactic Villain Leaderboard • Emperor Awesome's Army
Locations
Lord Hater's Spaceship • Binglebopolopolis • Doomstone • Baaaaa-halla • Phunulon • Ballzeria • Buster • Doom Arena • Planet Ziziks • Flendar • Lord Dominatior's Spaceship • Arachnomorph Homeworld
Community content is available under
CC-BY-SA
unless otherwise noted.