"The Good Deed" is the fifth episode of Wander Over Yonder. It aired on September 27, 2013.
Synopsis
Wander's usual good deeds at helping anyone in distress suddenly become short-lived when he begins helping for the wrong reason. He and Sylvia work hard to try and fix Wander's mistake.
Plot
Wander and Sylvia were strolling across a sandy desert planet one day when they suddenly come across a famished rabbit on the ground. Wander decides to help it, and learns it's hungry. Upon seeing a carrot hanging from a branch, he has Sylvia bounce him over to it so he can grab the carrot. He succeeds, and feeds it to the rabbit, curing it back into full health.
The heroic moment Wander and Sylvia share is suddenly cut short when they realize the "branch" the carrot was hanging from was actually a stick held by a duck creature, Fleeblebort. He used the carrot to make his Hufflerupples go and since there is no carrot, they won't go. Wander apologizes and says it's a minor setback but when he mentions he and Sylvia will stop by the store and get a new carrot, the Hufflerupples hear about this and instantly dash off. Fleeblebort is upset as he won't get to his wedding on time, leaving Wander and Sylvia shocked.
Wander doesn't want to give up and decides to help Fleeblebort get to the wedding on time. As Sylvia zips over to the wedding, Wander provides the appropriate racing-the-clock action music on his banjo. But once they get to the wedding -- where a crowd of hillbilly monsters are watching, Fleeblebort sees his fiancée, Marsha, with another monster, Spats. He announces he loves her and she says she loves him back. She cancels the wedding with Spats and she and Fleeblebort run off.
Sylvia is upset as two deeds went wrong and they must be having an off-day, but Wander disagrees and thinks they can still fix this. He apologizes to Spats for his true love going away, but Spats explains Marsha wasn't his true love, he was buying her to stop the feud between both monster halves. Since he failed, the war is back on. Wander manages to stop the war by pretending to have a disturbing court session and acting as all the parts. As a celebration, the monsters use their laser guns from wartime to make fireworks.
One of the fireworks, however, hits a set of treehouses belonging to a myriad of bird head creatures, causing it to burn down. Wander stops the fire by zapping the top of a snowy mountain causing the snow to roll over it. As an addition, the treehouses and the creatures sprout flowers. This is also cut short as a Graknor on top of the mountain where the snow used to be wakes up and starts rampaging a city populated by miserable business pigs. Wander saves them by trapping them in orbble transporter bubbles and bringing them to a muddy planetoid not far from the planet.
On the planetoid, Wander apologizes for destroying the city, but the pigs don't care as the planetoid is even better than where they used to live. Sylvia is glad they did a good deed, but Wander is worried and gets a feeling in his belly that something bad will still happen.
This is true, as when one of the pigs plants a flag in the planetoid, it causes a chain reaction of planets bumping one after another, finishing with the sun, bumping it to the side a little. Miles away in a fortune telling tent, Lord Hater is angered when he hears the fortune teller say the skies have shifted and as a result, he is said to not be a strong and powerful leader, but immature, awkward, and emotionally unstable. Before leaving, he asks her if there's anything about having a girlfriend, but she nods in a no.
Lord Hater decides to prove his fortune wrong by launching a missile to destroy the sun. Wander and Sylvia see this and Wander is sure that this is their fault, but Sylvia doesn't care and wants to stop the missile. Just as she blows an orbble and gets into it, Wander begins a long talk about not wanting to help stop the missile since all they did today was bad. While he is speaking, he sinks into the mud. Sylvia feels sorry for Wander but doesn't want to refuse this since she thinks doing a good deed will lead to the universe getting destroyed, it won't be a universe she'll live in. Wander gets into the orbble with Sylvia and she rushes toward the sun and bounces Wander up toward the missile. He succeeds and bouncing on it, causing it to change its direction and fly into Lord Hater's ship, destroying it.
Lord Hater and Peepers are left in the remains of the ship as Wander and Sylvia stroll past. Lord Hater asks for a little help, but Wander and Sylvia refuse to help this time and continue strolling, leaving them floating in the ship debris as the episode ends.
Cast
Goofs
Wander's shoes are the exact same color as Sylvia's skin tone, but in the episode, during the planet scenes, Wander's shoes are a more pale blue tint (almost his shoes' regular tinting), not the same aquatint as Sylvia.
When Fleeblebort gets off Sylvia, Wander is still on her back, but when Fleeblebort says "Stop the wedding!" Wander is standing in front of Sylvia.
Wander and Sylvia refuse to help Lord Hater, but in "The Fugitives", Wander cannot resist not helping and even inadvertently helps a Watchdog. It's possible that he learned helping the bad guy is wrong, and he knew Hater was the bad guy and didn't want to help him.
When Wander is acting as the judge, plaintiff and defendant, his fur is slightly darker than usual.
The strings of Wander's banjo do not move when he plays it.
When Fleeblebort says "Stop the wedding!", Spats can be seen holding a ring but when Fleeblebort runs up to Marsha, Spats is not holding the ring.
When Wander and Sylvia back up to Lord Hater as Wander plays his banjo song plays in reverse, Wander does not strum his banjo whilst doing so.
In other episodes, it is shown that no one can breathe in outer space (outside a planet). However, when Lord Hater and Peepers are hanging in space, they look totally normal and Lord Hater can talk.
While Wander was sinking in the mud, he was meant to get muddy but when he is pulled out by Sylvia, Wander is clean without mud all over him.
When Wander says "We can still right this wrong", his lips are out of sync from what he is saying.
Wander would not have survived sinking in the mud.
When Wander and Sylvia arrive on the muddy planetoid, at least ten pigs were in their orbble, but when it pops, there are only eight, and when the camera zooms out to Wander and Sylvia, there are six.
After Wander stops the missile from hurtling towards the sun, he falls down to Sylvia; in real life, he wouldn't have fallen down, since they're in outer space and there's no gravity. Therefore, he would've just floated in mid-air.
When Sylvia stops just before the wedding, she turns her head to the left, but in the next shot, her head points right. Also at the same time, Wander is behind Fleeblebort, but in the next shot, he is standing next to him.
When the camera zooms out to frame Wander and Sylvia after taking the pigs to the muddy planetoid, a strip on the far left side of the screen is blacked out.
Before Lord Hater turns the fortune teller's table over, there are six tarot cards in the center of the table. However, in the next shot, there are nine cards, three which have appeared out of nowhere.
Closed-captioning mess-ups:

When the pig says "All I'll see is Hog Heaven" the captions say "All I see is Hog Heaven".

Lord Hater's missile couldn't destroy the sun, it would just evaporate on impact.
Trivia
Wander's plaintiff disguise (which consists of him wearing a blond wig, tie with collar and cufflinks) is a reference to Kenneth Parcell (one of Jack McBrayer's roles) wearing nothing but a tie and collar in one of the episodes from 30 Rock.
Every time Wander says "Sylvia, six fingers!" the exact same recording is used.
This episode reveals that Lord Hater is single (due to him asking the fortune teller if there's anything about having a girlfriend).
Wander refuses to help someone for the first time in this episode, by not helping Lord Hater with his ship.
It's shown that Wander can sing and play the banjo backward.
Moral: Every choice, even the right one, has its consequences.
Gallery
v - e - d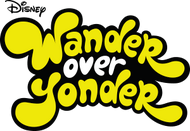 Organizations/Groups
Lord Hater's Army • Insurgent Generals • Wander and Sylvia • Bounty Hunters • Lord Dominator's Army • Galactic Villain Leaderboard • Emperor Awesome's Army
Locations
Lord Hater's Spaceship • Binglebopolopolis • Doomstone • Baaaaa-halla • Phunulon • Ballzeria • Buster • Doom Arena • Planet Ziziks • Flendar • Lord Dominatior's Spaceship • Arachnomorph Homeworld
Community content is available under
CC-BY-SA
unless otherwise noted.