Spider-Man: No Way Home Trailer Dropped - The Loop
Play Sound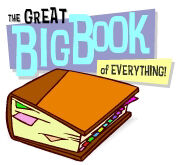 "The Great Big Book of Everything" is a book owned by Stanley Griff in the 2001 series Stanley. It is a book on all kinds of animals, and it can be used to travel into the habitats of those animals and even bring the animals themselves out of the book and back. It is shown that Stanley's grandmother owns a copy. In fact, it was she who gave Stanley a copy for his fourth birthday.
The book is indexed by letter and sometimes when looking up animals, Stanley and sometimes his friends will sing "The Alphabet Song." In other cases, a brief instrumental of the tune may be heard.
According to Stanley's Great Big Book of Adventure, the book was first started in prehistoric times by a special caveman who drew a picture of a saber-tooth tiger (who posed for the picture) on a leaf with an early version of the pencil and put it in a stone book cover. Later in and at the time of ancient Egypt, an little Egyptian boy expanded the book by drawing a camel while riding one among others. The book grew more during the Middle Ages in medieval Europe as a princess drew info about horses (including the one that a knight was on). It was around the Golden Age of piracy that the book starts to develop its magical capabilities when a pirate and his parrot were studying whales using the book when the picture of a whale began to move and splash them with water. One day at the time of the Age of Enlightenment, a female scientist completed the book. Not only was the book dubbed "The Great Big Book of Everything" and the scientist and her assistant came up with the lyrics to the book's song they were also the very first people to travel into the book. This was how the book was created. Several copies of it were made, but few of them exist in the present, and they were only entrusted to the smartest, wisest, and bravest people (like Stanley).
In that special, Lionel accidentally gets sucked into the book, and when Stanley and Dennis go in to find him, Harry and Elsie argued over the book and caused all of the pages to fall out. Not only did it scramble the book's animals and their habitats, but until all the pages are put back in their correct place, nothing and no one was able to go in or out of the book. While Harry, Elsie, Marci, Mimi, and Lester put the pages back in order to restore the book, Stanley and Dennis continue their search for Lionel.
Animals