"The Hero" is the first part of the 9th episode of Wander Over Yonder.
Synopsis
In this fairy tale adventure, Wander and Sylvia work with Sir Brad Starlight, a heroic knight, to help save a princess from the evil dragon king. But along the way, Brad's rescue is constantly disrupted when Wander goes too far and ends up taking all the heroic duties to himself.
Plot
In a storybook opening, a prophecy explains that the beloved Princess Demurra has been captured by King Draykor, the evil dragon king, and imprisoned with him among to his Labyrinth of Delusion. However, only one hero can save her... her one true love, and when she's saved, they'll live happily ever after and help the other citizens live happily ever after as well.
The hero, Sir Brad Starlight the knight, is determined to save Demurra before Draykor marries her at sundown. He asks his recruited sidekicks, Sylvia and a rather overexcited Wander, to help him save her, much to Wander's delight as he's always wanted to save a princess. Brad reminds Wander that even though he likes his enthusiasm, he is the hero and Wander and Sylvia are his goofy sidekick and noble steed (Much to Sylvia's disgust) respectively. Wander reminds Sylvia that there's a princess who needs to be saved, and she reluctantly agrees with him, "But only 'cause we're helpin' a sister out", she quotes.
The trio set out on their quest, with Brad riding Sylvia as Wander follows behind them and sings Brad's theme song. They approach the Labyrinth of Delusion, Wander rushing off at first before being stopped by Brad again. He again reminds him that the hero leads the way, and all three enter. Wander strives down a nice, peaceful spot of the maze but Brad says it's a trap and a thorny portion is the right path. Sylvia is raged at this, but Brad calms her down by tying her to a tree branch and feeding her a carrot. He then sets off with Wander following him under Sylvia's orders.
Brad and Wander come across a myriad of obstacles in their trap, the former telling the latter that only one with "big, heroey muscles" can make it through, like himself. This is briefly proven wrong as Wander goes far ahead of him and makes it through every trap unharmed. Brad assumes it's a warm-up challenge and tries to follow him, but fails and constantly stalls, losing his sword in the process. On the other side, Wander, who tells Brad that he's almost through, is joined by Sylvia, who took the other path, which wasn't a trap at all and turned out pleasant, and also had free lemonade. He reminds him that the path was a pattern, and is about to say more when Brad refuses help from him and decides to figure it out himself. He fails, and ends up getting hurt by the traps, also losing half of his cape to a griffin.
Brad blames Wander for what he did, as he lost his sword and the prophecy states the hero needs a sword. Wander shows him another sword, which turns out to be the mysterious Sword of Destiny. As Brad talks about the sword's back story, Wander pulls it out for him but immediately puts it back after Brad tells him that the hero needs it. But Brad cannot pull the sword out easily like Wander did, and ends up breaking off the sword's hilt, proclaiming it's better that way.
They finally reach Draykor's castle, Brad preparing to enter while giving a speech that no barrier will keep he and Demurra from each other. This is briefly stopped when Wander opens the door, which was unlocked, but closes it so Brad can make a dramatic entrance. Just after this, Draykor's hog guards spot them and Wander and Sylvia begin to take them down, only to be stopped by Brad, who once again says that he has to save Demurra like what the prophecy said. Instantly, the hogs take them prisoner.
The hogs take the trio to a room where Draykor greets them and explains his plan to marry Demurra. He is interrupted by the arrival of the princess, whom Wander and Sylvia say she's beautiful and pink respectively, and she calms him down, revealing he's not so bad like Brad thought.
Demurra notices what Brad did and has the hogs free him along with Wander and Sylvia. Brad shows her the prophecy, which she claims to be his diary from when they were fifteen, and gives him a talk that things don't turn out like he expected and life isn't a fairy tale, and adds they can just be friends. At first Brad is content, but he immediately declines and escapes with her, proclaiming that she'll be his and the prophecy will be fulfilled.
Draykor asks Wander to help him since he's the only one who's brave enough to face the Labyrinth of Delusion he set up to stop Brad from stealing Demurra. Wander excitedly accepts, hence he always wanted to save a princess, and gives a speech to everyone that they have a new bad guy and they'll need a new plan that involives using everyone's individual talents and working together as a team so they'll all be heroes. They burst out of the room to save Demurra, only to see that she has taken care of Brad herself. Draykor adds this is why he loves her. 
Some time later, Draykor and Demurra are married, and Wander adds they lived happily ever after. Demurra and Draykor go into a talk about real romances taking a lot of work, but Wander stops them and proclaims they did live happily ever after and they kinda sorta saved a princess, ending the story.
Cast
Songs
Goofs
When the camera zooms in on Wander singing, his banjo is more oval shaped than rounded.
Sylvia is annoyed with Brad riding her and she doesn't let just anyone ride her, but in "The Good Deed" Fleeblebort rode her, and in "The Little Guy" Westley rode her, both times she showed no signs of annoyance of someone other than Wander riding her. It's possible this occurs before "The Good Deed" or Sylvia doesn't remember it. It's also possible Brad is too heavy for her, that he's too big to carry unlike Wander, Fleeblebort, and Westley who are smaller, or she is aware of Brad's arrogant nature and refuses to help him on principle.
When Wander grabs Sylvia to tell her there's a princess in danger, Brad's cape is not blowing.
During some scenes, the dark blonde hairline under Princess Demurra's tiara turns dark pink.
When Princess Demurra ends her talk with Brad stating they can just be friends, a few of her animal friends are surrounding her. But after Brad says "No!", the animals are gone.
Sylvia is nowhere to be seen at the wedding.
When Brad takes Demurra just before he escapes with her, part of his arm is superimposed over Demurra's body.
In some scenes, the belt and inside of Wander's hat and Sylvia's rein are dark blue instead of black, and during the scenes inside Draykor's castle (except the wedding), Wander's socks turn an unusually dark grey.
When the trio is meeting Draykor and Demurra is talking to Wander and Sylvia, hog guards are behind them, but when the camera zooms in on Wander and Sylvia in close up, the hogs are not there.
After Demurra shows up, Sylvia's lemonade cup permanently disappears.
The other path to Draykor's castle is peaceful, but when the maze is viewed from above the peaceful spot isn't there.
While Wander is pulling the door closed to Brad's request, a portion of his sock becomes the same color of his fur for a split second.
The captions misspell Demurra's name as "Demura".
When Wander and the others cheer for Demurra stopping Brad, the flames near the door are blue.
Trivia
The title refers to Brad constantly referring to himself as the hero and that he should do the saving.
The fourth wall is broken at the end, when Wander says to the audience "And they lived happily ever after!".
This episode is a parody of the fairytale and princess genre made famous by Disney, including how episode begins with a book opening which is similar to how in many movies it has a book opening and closing, The Sword in the Stone that only Wander was able to pull out, Princess Demurra's animal friends being reminiscent of Snow White, and Draykor's hog guards resemble Maleficent's Goons. Interestingly, there are themes of Beauty and the Beast with the plot twist involving the romance between the Dragon King and Princess Demurra.

Princess Demurra is also voiced by Jennifer Hale, who has been voicing Cinderella for many tears.

A clue that Brad is not the hero as mentioned in the legend is with the Sword of Destiny; when Brad tries to pull the sword out, he struggles and is unable to; but Wander pulls it out with no problem. Since only the hero can wield the sword; Brad cannot pull it out, while Wander, the true hero, can.
Gallery
v - e - d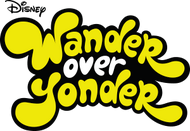 Organizations/Groups
Lord Hater's Army • Insurgent Generals • Wander and Sylvia • Bounty Hunters • Lord Dominator's Army • Galactic Villain Leaderboard • Emperor Awesome's Army
Locations
Lord Hater's Spaceship • Binglebopolopolis • Doomstone • Baaaaa-halla • Phunulon • Ballzeria • Buster • Doom Arena • Planet Ziziks • Flendar • Lord Dominatior's Spaceship • Arachnomorph Homeworld
Community content is available under
CC-BY-SA
unless otherwise noted.