"Hollywood, 1939, amid the glitz and glitter of a bustling young movie town at the height of its golden age, the Hollywood Tower Hotel was a star in its own right; a beacon for the show business elite."
―Rod Serling
The Hollywood Tower Hotel is the name of the building that serves as the location of the Twilight Zone Tower of Terror attraction. It is a fictional hotel located in Los Angeles, CA, just toward the end of Sunset Blvd. A landmark locale, it was famous for being the premier hotel to the show business elite. It is the sister hotel to the Manhattan Tower Hotel.
Background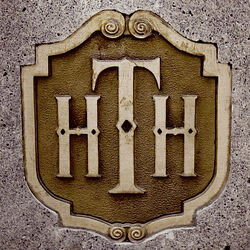 The Hollywood Tower Hotel opened in 1917 and soon rose to popularity amongst celebrities and the social elite for its luxurious accommodations and fantastic service.
The hotel had hosted several parties at the "Tip Top Club" on the 13th floor, which is odd for a hotel with 12 floors. Five people stepped aboard the elevator on Halloween night, 1939 and, due to a lightning strike, mysteriously vanished along with the hotel's two large tower wings and anybody who was staying there. The lightning left behind a black scorch mark. In the chaos, the guests that did not disappear abandoned everything and ran, leaving the hotel abandoned and closed down. The mystery was covered by various media sources, such as NewsView and trespassers have reported strange supernatural happenings during their intrusions.
Directory
The Hollywood Tower Hotel featured many activities and places for their guests to relax and unwind such as the:
Stardust Room - MEZZANINE
High Society Suite - PENTHOUSE
Billiards - LOBBY LEVEL
Lounge - LOBBY LEVEL
Library - LOBBY LEVEL
Basement - LOWER LEVEL
Sunset Room - LOWER LEVEL
Beverly Room - LOWER LEVEL
Fountain Room - LOWER LEVEL
Steam Baths - LOWER LEVEL
Gift Shop - LOWER LEVEL
Tip Top Club - TOP OF TOWER
Gallery
Community content is available under
CC-BY-SA
unless otherwise noted.