"The Hot Shot" is episode of Wander Over Yonder. It aired in May 30, 2016.
Synopsis
When a mysterious new rebel begins fighting Dominator's forces, Sylvia becomes jealous.
Songs
The Best You Will Ever See
End Credits
Sometime after the events of the episode, Brad has apparently married the leech Princess Remora. She gives him a wedding anniversary present, after which they kiss, much to the disgust of their two sons.
Cast
v - e - d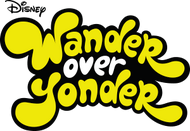 Organizations/Groups
Lord Hater's Army • Insurgent Generals • Wander and Sylvia • Bounty Hunters • Lord Dominator's Army • Galactic Villain Leaderboard
Locations
Lord Hater's Spaceship • Binglebopolopolis • Doomstone • Baaaaa-halla • Phunulon • Ballzeria • Buster • Doom Arena • Planet Ziziks • Flendar • Lord Dominatior's Spaceship • Arachnomorph Homeworld