"The Legend" is an episode of Wander Over Yonder.
Plot
While Lord Dominator is attacking a planet, a little girl named Angela runs round to look for something. She runs into her house and her older sister Melode angrily asks why she did not go to the evacuation ship. Angela shows that she wanted her Zbornak plush which Melodie is sympathetic to. The other children, Jamie, David and Hank, that came with Melodie point out that Lord Dominator's bots are outside and arguing on how to defeat them. During the argument all the evacuation ships left and Melody tries to comfort everyone that the "hero of legend" will save them. Sylvia and Wander burst through the house and use Orbble Juice to escape the doomed planet with the children. While the group travels to meet up with the ships, Wander asks about the "hero of legend". As each refugee tell their own interpretation of the hero Wander and Sylvia realizes that they are talking about them. The night before everyone can get to the ship, Lord Dominator's bots attack. Wander and Sylvia cause a diversion while sending the children to the ship. Melodie says if they ever come across the hero she will send them their way. Sylvia asks Wander why he did not tell them the truth. Wander realizes that their stories of him gave them hope which was more important than the truth. Wander jokingly call Sylvia, Silver 7 as they defeat the bots. Angela realizes the duo are the heroes she heard as she gleefully hugs her toy.
Trivia
One of the children's stories depicts Wander as a stereotypical "cool guy". During this, he splats Major Threat and Cooler DJ Wander repeatedly says "mustard or mayo", making this the fifth time this phrase is said ("The Picnic", "The Good Bad Guy", "The Hole...Lotta Nuthin'", "My Fair Hatey").
Background
Melode mentions Wander's species is a "star nomad", which is a fanmade term given to his species by fans. This episode also shows how other members of Wander's species could look like, at least in Melode's portrayal.
Silver7 is a reference to one the very first Mecha manga/animes, which has established many genre rules and cliches still in use even today.
Continuity
The first three stories told by the children are all references to previous episodes, the first being a retelling of "The Greatest", the second possibly hinting at how Wander was able to reform Major Threat, as implied in "The Good Bad Guy", and the third summarizing the events of "The Party Animal".
Cast
Blake Bertrand as Jamie
Connor Wise as Hank
Lyons Mathias as David
Fred Tatasciore as Beast
Gallery
v - e - d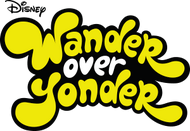 Organizations/Groups
Lord Hater's Army • Insurgent Generals • Wander and Sylvia • Bounty Hunters • Lord Dominator's Army • Galactic Villain Leaderboard
Locations
Lord Hater's Spaceship • Binglebopolopolis • Doomstone • Baaaaa-halla • Phunulon • Ballzeria • Buster • Doom Arena • Planet Ziziks • Flendar • Lord Dominatior's Spaceship • Arachnomorph Homeworld
Community content is available under
CC-BY-SA
unless otherwise noted.