"The Liar" is an episode of Wander Over Yonder.
Synopsis
While helping a planet's inhabitants evacuate from a volcano, Wander notices the only ones left to save are a family of birds, who are trapped on it. Sylvia refuses to believe this will work, so Wander convinces her to think positive.
Plot
On a paradise planet, Wander and Sylvia have just finished rescuing some inhabitants from a volcano, Mt. Krackyourbigtoa, which is shortly about to erupt. Sylvia is about to relax with a drink, but Wander swims back to the volcano revealing that not everyone was rescued, much to her chagrin.
Sylvia follows Wander to the top of the volcanic cone to find a tree with a nest holding a mother bird and her three babies trapped. Sylvia isn't up for it, but Wander is determined to save them. After Sylvia tells him it's impossible to save them, Wander is unpleased by this and tells Sylvia they can do this and she needs a "positive can-do-titude". Just as he reaches the nest though, the mother bird gets angry and zaps him every time he attempts to save them.
Eventually, the birds are saved, but the tree their nest was in falls into the volcano. While escaping, one of the birds, Scaredy, runs away from them and heads into a hole, worrying Sylvia. Wander attempts to remind everyone about their positiveness, but they end up inside the volcano, where Scaredy rejoins them.
Wander sees the volcano's hole, revealing they're saved. Sylvia doesn't think they can do this, but Wander points out they can, since she can bridge a gap they're in front of. After getting pleading faces from Wander and the birds, Sylvia manages to bridge the gap, but an eruption causes them to fall off, only to safely land on some ground below.
Another eruption causes part of the platform they're on to break away with a bird, Alan, still on it. Wander tells Alan to be positive and jump to the other side, but he only manages to do it a little bit. Luckily, Sylvia saves him. Soon after this though, the entire platform breaks away, sending everyone down the lava. Wander spies a stalactite near the hole and Sylvia breaks their platform so they surf the lava, and everyone grabs onto the stalactite and climbs to safety.
They return to where they started and Wander sings a short song about being positive, which Sylvia doesn't agree on. Wander tries to convince her again, but he is soon proven wrong when the volcano begins to break apart and smoke constantly blocks their way. Wander sadly admits to the birds he wanted to help them escape, but now he has nothing left to do. Sylvia however, has her own plan to get them to safety, and Wander agrees with her. She jumps into the volcano, and it explodes, causing everyone to fly out on a stalagmite and land safely on the beach.
Sylvia finally gets her drink, and Wander is happy that her plan worked. Sylvia agrees on being positive like her friend and didn't even doubt him a bit, but this is proven untrue, ending the episode.
End credits
Sylvia keeps trying to sip her drink but is constantly zapped by the mother bird until she is unconscious and the mother bird steals her drink.
Cast
Songs
Goofs
When Wander is spinning his banjo in the air, when we see a close-up part of his arm can be seen on the bottom of the screen, without the hand.
It is unknown why Wander and Sylvia don't use their orbble juice to escape the volcano rather than go through the obstacles in it. It could be that it was too hot to use it, however, or that they had none.
Wander names the lavender bird Scaredy, but later on it is called Alan.
When we first see Mt. Krackyourbigtoa, the upper edges are cracked apart and uneven, making it uneasy to stand there. However when Wander and Sylvia reach the top. the edges are perfectly smoothed out.
Sylvia's eyes are different sizes when she is bridging a gap.
Wander's stubble began to disappear when he's asking Sylvia about the stalactite.
Trivia
Gallery
References
v - e - d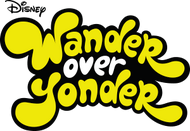 Organizations/Groups
Lord Hater's Army • Insurgent Generals • Wander and Sylvia • Bounty Hunters • Lord Dominator's Army • Galactic Villain Leaderboard • Emperor Awesome's Army
Locations
Lord Hater's Spaceship • Binglebopolopolis • Doomstone • Baaaaa-halla • Phunulon • Ballzeria • Buster • Doom Arena • Planet Ziziks • Flendar • Lord Dominatior's Spaceship • Arachnomorph Homeworld
Community content is available under
CC-BY-SA
unless otherwise noted.