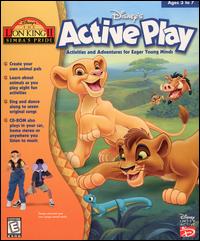 The Lion King 2: Simba's Pride: Active Play is a PC game on November 1998.
Description
Disney's The Lion King II: Simba's Pride Active Play encourages children to sing and play as they romp through the Pride Lands on a safari of fun, and join Kiara and Kovu for a whole jungle full of excitement. In addition to enjoying arts and crafts, sing-alongs, and puppet shows, kids will share plenty of laughs with friends Timon and Pumbaa. There are also masks and wacky animals to print and play with, and seven original songs.
Trivia
As is usual for certain video games, Cam Clarke does his own speaking voice for Simba (in the movie, he only did the singing voice in place of Matthew Broderick).
Coincidentally, Cam Clarke and Ryan O'Donohue (who reprises his Kovu role) both voice-acted in the original movie's Animated Storybook, only with O'Donohue voicing Young Simba there.
Community content is available under
CC-BY-SA
unless otherwise noted.