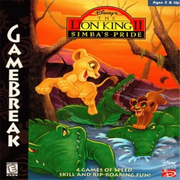 The Lion King 2: Simba's Pride GameBreak is a PC video game released in 1998.
Description
When pesky cubs Kiara and Kovu decide it's time to escape their baby sitters Timon and Pumbaa and have some fun, the results are four engaging arcade-style games likely to inspire giggles. Each game holds three levels of difficulty for each game--kitten, cub, and lion--so you can be sure they won't be mastered in an afternoon.
"Conga Longa" is the best of the four--the cubs dance around a garden trying to get all the animals to join the conga line. Great music and bright graphics make it easy to get carried away, but if you're not careful, you'll break up your line and have to start over. "Cub Chase" is a tricky maze activity that's great for building hand-eye coordination, while "Swampberry Sling" and "Paddle Bash" are standard arcade smash-'em-up fun. With classic Disney graphics and original music, Lion King II: Simba's Pride lives up to the quality of the movie on which it's based.