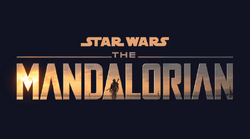 After the stories of Jango and Boba Fett, another warrior emerges in the Star Wars universe. The Mandalorian is set after the fall of the Empire and before the emergence of the First Order. We follow the travails of a lone gunfighter in the outer reaches of the galaxy far from the authority of the New Republic.
In the second season, The Mandalorian and the Child continue their journey, facing enemies and rallying allies as they make their way through a dangerous galaxy in the tumultuous era after the collapse of the Galactic Empire.
Series Overview
Season
Episodes
Originally aired
Season premiere
Season finale
1
8
November 12, 2019
December 27, 2019
2
8
October 30, 2020
December 18, 2020
Total
Series premiere
Series finale
1-2
16
November 12, 2019
December 18, 2020
Episodes
Season One (2019)
No. in Series
No. in Season
Title
Directed by
Written by
Original release date
1
1
"Chapter 1: The Mandalorian"
Dave Filoni
Jon Favreau
November 12, 2019
A Mandalorian bounty hunter tracks a target for a well-paying, mysterious client.
2
2
"Chapter 2: The Child"
Rick Famuyiwa
Jon Favreau
November 15, 2019
Having tracked down a valuable quarry, the Mandalorian must now contend with thieving bandits.
3
3
"Chapter 3: The Sin"
Deborah Chow
Jon Favreau
November 22, 2019
The battered Mandalorian returns to his client for reward, but some deals don't end neatly.
4
4
"Chapter 4: Sanctuary"
Bryce Dallas Howard
Jon Favreau
November 29, 2019
The Mandalorian teams up with an ex-soldier to protect a farming village from raiders.
5
5
"Chapter 5: The Gunslinger"
Dave Filoni
Dave Filoni
December 6, 2019
On a familiar desert planet, the Mandalorian helps a rookie bounty hunter who is in over his head.
6
6
"Chapter 6: The Prisoner"
Rick Famuyiwa
Story by : Christopher Yost
Teleplay by : Christopher Yost and Rick Famuyiwa
December 13, 2019
The Mandalorian is part of a crew of mercenaries springing a convict from a prison ship.
7
7
"Chapter 7: The Reckoning"
Deborah Chow
Jon Favreau
December 18, 2019
An old contract extends an invitation for the Mandalorian to make peace with his enemies.
8
8
"Chapter 8: Redemption"
Taika Waititi
Jon Favreau
December 27, 2019
The Mandalorian and his allies come to know their true enemy, who already knows much about them.
Season Two (2020)