"The Mystic Isles: The Princess and the Protector" is the ninety-first episode of the Disney Junior animated series Sofia the First. It premiered on June 30, 2017 and is the eighth episode in the fourth season.
Plot
On the Mystic Isles, The Protectors are having a meeting in their castle. Orion and Vega have decided that the time has come for Sofia to begin her training as Protector of the EverRealm. Orion and Vega know that training her for the job will be a great challenge and honor for her trainer. For this reason, they have picked Chrysta to be Sofia's trainer. The other Protectors object on the grounds that Chrysta is too arrogant, pushy, and inexperienced as a teacher to be suitable as Sofia's trainer. Vega and Orion reminds them that Chrysta is also smart and fierce which makes her perfect as a trainer. Chrysta comes and asks what is next for her when she sees Sofia in the Crystal Ball. Orion tells her that Sofia is the one who stopped Prisma and is going to be her new student. Chrysta refuses since she does not want to teach "some pampered Princess who cannot even put on her gown without help from her maid." Orion and Vega tell her to do it for the sake of the EverRealm which Chrysta reluctantly does. 
Meanwhile, Sofia is riding in the Royal Coach to somewhere. Suddenly, the coachman vanishes and one of the wheels on the Coach comes off. When Sofia notices this, she gets the horses to stop. Chrysta appears and reveals that she caused the coach to go out of control. Sofia recognizes her as a Protector and Chrysta tells her Orion assigned her to be her trainer. Sofia's first assignment is to get her own Enchantlet on the Isle of Forever Frost by sundown or she cannot be a Protector. Sofia tells her she understands which Chrysta dismisses by stating she is not so sure she does as the Isle of Forever Frost is the most difficult and treacherous terrain in the Mystic Isles. After Chrysta summons a unicorn, they fly to the Mystic Isles. Upon arriving on the Isle of Forever Frost, Chrysta tells Sofia she cannot use the powers her Amulet gave her to help her get her Enchantlet, which Sofia agrees to. On the way to the area, Chrysta explains the first skill Sofia needs to learn: Feather Walking, walking on ice and snow. Sofia has trouble but starts to grasp it. Sofia asks for more tries to grasp it but Chrysta refuses telling her she does not get special treatment just because she is a princess and questions if she is tough enough. Seeing how Chrysta views her, Sofia asserts that she is despite what she thinks.
On the way to the next stop, Sofia is practicing Feather Walking. Chrysta contacts the other Protectors and tells them things are going badly. The other Protectors tell her that is because she needs to do a better job as a Trainer. Chrysta reluctantly helps Sofia and she gets Feather Walking down. They then move on to the next phase of Sofia's training: Beast Wrangling. For the training, Chrysta takes a Calming Collar off a Baronga, causing him to run wild. Sofia tries to collar the Baronga by mounting it, but the Baronga throws her off and lunges at her while she is stunned. This brings the Amulet to send out a beam of light to distract the Baronga and save Sofia. Sofia quickly uses the Amulet's light as a cat toy to calm the Baronga and lure it towards her, but Chrysta ruins Sofia's attempt to calm the Baronga, and causes it to escape. Chrysta continues to remain dismissive of Sofia and, when they get to the Glazing Glacier, tells Sofia she can give up if she gets in trouble as she cannot help her. Annoyed, Sofia tells Chrysta she has not been much help anyway. Sofia gets past the Articondors and rescues their son from the Baronga, who ruins Sofia first attempt to get her Enchantlet. Chrysta tells Sofia she cannot get her Enchantlet now but can go back to her life as Princess. Good and fed up, Sofia tells Chrysta off for being prejudiced against her and for being such a poor trainer. Realizing she is right, Chrysta apologizes to her and goes off to tame the Baronga but accidentally leaves the Calming Collar behind. Hitching a ride on the female Articondor, Sofia goes after her. Sofia rescues Chrysta before getting her Enchantlet. Sofia agrees to let Chrysta continue to be her Trainer and rides the Baronga back down the mountain after Chrysta teaches her how to use her Enchantlet. Chrysta tells Sofia they should call her Sofia the First, which Sofia likes the sound of.  
Cast
Song
Trivia
Sofia gets her Enchantlet in this episode.
The Opening Sequence has new scenes starting with this episode.
Chrysta told Sofia couldn't use the powers her Amulet gave her to help her get her Enchantlet, but after the Amulet glowed for the first time, Sofia used the Amulet on all the scenes until receiving the Enchantlet and Chrysta didn't complain.

Despite this, the Enchantlet judged Sofia was worthy and ready to have an Enchantlet. This may be because when Orion laid out the instructions to Chrysta, he didn't say that using the Amulet wasn't allowed. Chrysta added that restriction herself.

This is the only episode where Sofia wears long gloves.
Moral: Never judge people by their background.
Goofs
Sofia wears her Enchantlet while Chrysta apologizes to her and goes off to take the Baronga.
International Premieres
Gallery
Concept and Color Script
Screenshots
v - e - d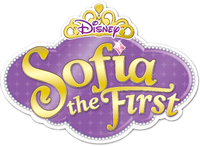 Characters
Princess Sofia • Queen Miranda • King Roland II • Prince James • Princess Amber • Princess Hildegard • Cedric the Sorcerer • Wormwood • Baileywick • Robin • Mia • Clover • Whatnaught • Goodwyn the Great • Winifred the Wise • Jade • Ruby Hanshaw • Princess Clio • Prince Zandar • Princess Jun • Prince Hugo • Minimus • Princess Vivian • Crackle • King Marcus and Queen Cecily • Trolls• Lucinda • Prince Jin • Magic Carpet • Jasper • Prince Khalid • Meg and Peg • Madam Ubetcha • Prince Desmond • Miss Nettle • Sir Gillium • Professor Popov • Helen Hanshaw • Oona • Queen Emmaline • Cora • Plank • Aunt Tilly • Wilbur the Wombeast • Sven • Emperor Quon • Empress Lin-Lin • Rex • Prince Axel • King Garrick • Electra • Vaughan and Vance • Marla • Sir Bartleby • Sir Maxwell • Sir Finnegan • Gwen • Chef Andre • Sofia the Worst • Lady Joy • Lord Gilbert • Wu-Chang • Jade Jaguar • Sir Dax • Boo • Princess Lani • Mamanu • Kamea and Halia • Praline • Freedo • Princess Zooey • Princess Astrid • Slickwell • Greylock the Grand • Princess Ivy • Dragons of Enchancia • Winter • Whiskers • Glacia the Ice Witch • Elliot, Amy, and Kurt • Tizzy • Master Erwin • Bryce Twigley • Button, Benngee, and Brody • Mossy • Carol of the Arrow • Jane • Princess Kari • Miss Elodie • Fluke • Slim • Shelly • Flip • Mantacorn • Onyx and Opal • Wendell Fidget • Mrs. Fidget • Saffron • Muck, Gunk, and Grime • Spruce • Ballerina • Mazzimo • Prince Roderick • Gavin • Kazeem • Sergeant Fizz • King Habib and Queen Farnaz • Chief Gnuckles • Flinch • Grotta • Elfonso • Elfred • Milo the Snake • King Henrik • Cordelia the Conjuror • Calista • Morgana • Crispy • Barley • Sassofras • Professor Zacharias Fleeber • Grand Mum • Gemina and Argus • Count Barnstorm • Sir Oliver • Sir Jaxon • Willawing • Kai • Princess Charlotte • Morris • Zinessa • King Philip and Queen Everly • Lily • Indigo • Marty and Maple • Mandy • Grimtrix • Wriggley, Pumpkin, and Chester • Skye • Piccolo • Baron Von Rocha • Professor Pecullian • Sea Monsters • Malachite and Fig • Omar • Prisma • Azurine • Orion • Vega • Chrysta • Sizzle • Cinder • Singe • Mare of the Mist • King Roland I • Roma • Giggling Goblin • Captain Quivers • Twitch • Vor • Nerissa


Elena of Avalor: Princess Elena • Princess Isabel • Francisco • Luisa • Shuriki • Alacazar • Zuzo • Mateo • Migs, Luna, and Skylar • Rafa • Chancellor Esteban • Armando • King Raul and Queen Lucia • Naomi Turner
Guest Characters: Flora, Fauna, and Merryweather • Cinderella • Jasmine • Magic Carpet • Belle • Ariel • Aurora • Snow White • Mulan • Rapunzel • Tiana • Merida • Olaf • Merlin • Archimedes
Community content is available under
CC-BY-SA
unless otherwise noted.