"The New Toy" is an episode of Wander Over Yonder.
Plot
In their latest plan to stop Lord Dominator, Peepers invents a ray that freezes anything, even anyone. However, Hater's new crush on her constantly gets in the way as he tries recklessly to get her to notice him in his new ride.
End Credits
Peepers makes Lord Hater thaw the Skullship with a hairdryer. When Hater stops, Peepers angrily points to the ship which made Hater go back to thawing the ship out.
Trivia
Cast
Gallery
v - e - d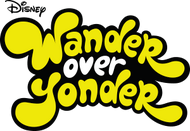 Organizations/Groups
Lord Hater's Army • Insurgent Generals • Wander and Sylvia • Bounty Hunters • Lord Dominator's Army • Galactic Villain Leaderboard
Locations
Lord Hater's Spaceship • Binglebopolopolis • Doomstone • Baaaaa-halla • Phunulon • Ballzeria • Buster • Doom Arena • Planet Ziziks • Flendar • Lord Dominatior's Spaceship • Arachnomorph Homeworld