"The Party Poopers" is an episode of Wander Over Yonder.
Plot
Wander fights a massive case of the giggles while trying to impress a race of beings with unusual faces.
End Credits
As Wander and Sylvia leave the party, the latter apologizes for wasting time with the High Gnees, when they could have been "enjoying nature's booty". This causes Wander to laugh once more as Sylvia states that she meant to say "beauty" during the end logos.
Trivia
This is the first episode to use potty humor.
The High Gnees' faces were never shown.
Allusions
The entire episode uses a lot of puns involving butts, or in this case, "toilet humor".

"Hi-nee" is a pun on "hiney".
"Butt-lerr" has the term "butt" in it.
A lot of the artifacts in the Hi-nee castle are shaped like butts, poop and toilets.

The term "party pooper" refers to someone who shows gloom or sadness over a social gathering, such as a party. Here, the term is used literally, in reference to the High Gnees and the constant uses of the toilet.
Cast
James Adomian as Gluteus Maximus; Various
v - e - d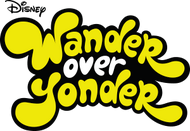 Organizations/Groups
Lord Hater's Army • Insurgent Generals • Wander and Sylvia • Bounty Hunters • Lord Dominator's Army • Galactic Villain Leaderboard • Emperor Awesome's Army
Locations
Lord Hater's Spaceship • Binglebopolopolis • Doomstone • Baaaaa-halla • Phunulon • Ballzeria • Buster • Doom Arena • Planet Ziziks • Flendar • Lord Dominatior's Spaceship • Arachnomorph Homeworld
Community content is available under
CC-BY-SA
unless otherwise noted.