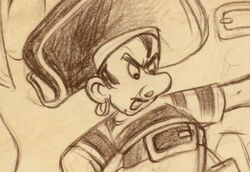 "The Pirate Song" is a deleted song from the film, Peter Pan written by Frank Churchill and Ray Kelly, intended to be sung by Captain Hook and his crew to convince Wendy, John, Michael, and the Lost Boys to become pirates, or else walk the plank. It was later replaced by "The Elegant Captain Hook". Echoes of it can be found in the later song Welcome to the Forty Thieves (also intended to get the protagonists to join a group of thieving evildoers), such as the "brush your teeth" line.
Song Lyrics
Version 1
If you're thinkin' of the future and you'd like a life of ease
If you like to make a fortune 'fore you're through
If you ever had a haggerin' to sail the seven seas
Then a pirate's life is just the life for you

Yo-ho-ho and a bucket full of rum
If you like to make a fortune 'fore you're through
If you like a life of pleasure, mix in treasure for good measure
Then a pirate's life is just the life for you

Now a cutlass and a blunderbuss
A dagger and a dirk
Is all you need to join the buccaneers
And you never have to worry and you never have to work
And you never have to wash behind your ears

If you choose to be a pirate, it's a choice you'll not regret
You can stay up every night 'til after ten
There'll be no one here to make you wear your rubbers when it's wet
And you'll never have to brush your teeth again!

Yo-ho-ho, buccaneering you must go
So you might as well make up your minds to sign
If you'd like a life of plunder, if you care for blood and thunder
Simply step up and sign up dotted line!
Version 2
Yo-ho-ho, let the blinkin' liquor flow
For there's rum enuff to fill the seven seas
And it's always dirty weather when good pirates get together
with the skull and bones a'flappin in the breeze

(repeat)

Oh we love to knife our prisoners or fill em up with lead
Then make them walk the plank when we are done
But before we're really thru with them it seems they're always dead
Isn't it a shame they have to spoil our fun
Video
Gallery
Community content is available under
CC-BY-SA
unless otherwise noted.