"The Pirates, the Parrot, the Puzzles and the Talking Boats" is the fifth double-length special episode, the first episode of the second season, and the second season premiere of Penn Zero: Part-Time Hero. It premiered on July 10, 2017.
Synopsis
After a recap of the events of the first season, Penn, Sashi and Boone are sent to a pirate world where the whales act as the ships. Penn must get to a treasure before Rippen does, but finds himself teaming with a competitive female pirate in the process.
Plot
Trivia
This episode has the longest title in the series.
This episode is parody of the movie: Pirates of the Caribbean
This is the only episode where a Show's opening title appears ins few seconds instead of the original opening
The second shard is found by Maria inside the treasure chest.
Boone mention renting monkeys back in "The Fast and the Floor Rugs".
v - e - d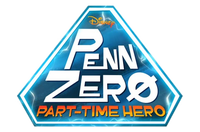 Locations
Middleburg • Middleburg Central High • The Odyssey • Fish Stick on a Stick • North Pole • Knight World • Superhero World • Arabian World • Plush Toy World • Clown World • Dinosaur Cowboy World • Cereal World • Old English World • Giant Monster World • Zombie World • Space World • Ocean World • Color World • Musical Fairy Tale World • Caveman Spy World • Future Barbarian World • Ultrahyperball World • Demon World • Alien World • Galaxy World • Temple World • Dragon World • Gothic Mystery World • Plant World • Animal Barbarian World • Toy World • Outer Space Court World • Robot World • Pirate World • Fairymania World • Steampunk World • Ball World • Ghost World • Rock, Paper, Scissor World • Beast World • Anime World • Sitcom World • Nothingness • Most Dangerous World Imaginable • Least Dangerous World Imaginable
Objects
Multi-Universe Hologram Uplink • Multi-Universe Transprojector • Pigoilet • The QPC Unit • Vortex Tops • Specs