"The Princess Most Fair" is the eighteenth episode of the first season of Penn Zero: Part-Time Hero. It premiered on April 27, 2015.
Synopsis
The team zaps into a musical fairy-tale land where they must sing whatever they say and their true feelings come out in song.
Plot
Trivia
This episode was released early on WATCH Disney XD.
It's revealed that Penn sleeps with a teddy bear and Rippen sleeps with a poodle named Freddy.
Boone creates a clay model of Pigoilet, a creation which he drew before in "Cereal Criminals".
This episode marks the first time the main heroes and villains swap genders for a mission.

This is also the first episode to be a musical, but more like an opera due to most of the dialogue being in song.

The use of the adjectival phrase "most fair" in the title after the noun "princess" which it modifies, rather than before (as in modern English usage), hearkens back to older varieties of English in which such inversions were common, particularly in poetical phrases such as "maiden most fair" and "lady most fair."
Gallery
v - e - d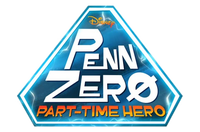 Locations
Middleburg • Middleburg Central High • The Odyssey • Fish Stick on a Stick • North Pole • Knight World • Superhero World • Arabian World • Plush Toy World • Clown World • Dinosaur Cowboy World • Cereal World • Old English World • Giant Monster World • Zombie World • Space World • Ocean World • Color World • Musical Fairy Tale World • Caveman Spy World • Future Barbarian World • Ultrahyperball World • Demon World • Alien World • Galaxy World • Temple World • Dragon World • Gothic Mystery World • Plant World • Animal Barbarian World • Toy World • Outer Space Court World • Robot World • Pirate World • Fairymania World • Steampunk World • Ball World • Ghost World • Rock, Paper, Scissor World • Beast World • Anime World • Sitcom World • Nothingness • Most Dangerous World Imaginable • Least Dangerous World Imaginable
Objects
Multi-Universe Hologram Uplink • Multi-Universe Transprojector • Pigoilet • The QPC Unit • Vortex Tops • Specs