"The Princess Stays in the Picture" is the forty-first episode of the Disney Junior animated series, Sofia the First. It premiered on October 24, 2014, and is the sixteenth episode of the second season.
Plot
At Royal Prep, the Fairies are teaching the kids about Enchanted Paintings, paintings that comes to life when you enter it and that the magic will only work if you use an Enchanted Paintbrush. The kids are paired and Hildegard becomes Sofia's painting partner. When Flora is explaining how to get inside a painting, Hildegard brags to Sofia that she knows everything about Enchanted Paintings and, because of this, both of them fail to hear the exit spell.
Amber, who is paired with James, paints a tea party, while James paints warthogs, after Amber gets inside the painting. The warthogs make a huge mess of everything, leaving the twins in despair.
Sofia and Hildegard paint a mermaid cove. Hildegard says the entrance spell but points it at a painting in the hallway of Enchanted Paintings instead. Since they do not know the exit spell, Sofia and Hildegard are stuck there. Hildegard insists she knows the spell but they do not get out no matter how hard she tries. They meet a kindly old man there, who says he'll give them the exit spell if they get the dog inside a painting in the end of the hallway, as he gets really lonely. He also tells them, to get into another painting, they have to point the paintbrush at the edge of the painting.
The girls agree and get into the next painting, which is a flying derby race and Hildegard continues to brag as they head into the next painting, which has a sailboat docked at a pier. Hildegard says she has been sailing since she was three, while Sofia has when she was only four. But Hildegard only gets them caught in a storm and they are thrown off the boat. They get inside the next painting - a Chinese village - just in time. Sofia is furious with Hildegard for getting them thrown off the boat. In the next painting, they come across a sleeping bull. Sofia states they should tiptoe so they do not wake the bull up but Hildegard states that there is no need for that because he is hibernating. Hildegard starts to explain what hibernation is but Sofia tells her that she already knows what it is and that bulls do not hibernate. Hildegard states bulls do hibernate and claims she knows everything about bulls. Sofia, who is starting to lose her patience, reminds her that she did not know the real exit spell or how to sail despite claiming otherwise and states that because of that she doubts that she knows anything about bulls either. Hildegard shouts that she knows everything about bulls which wakes the bull up. The beast grabs Hildegard's paintbrush, but the two manage to get inside the last painting. They get the dog, but the bull comes inside the painting, frightening the dog away.
Meanwhile, Amber and James still have no idea on how to calm down the warthogs in their paintings. But when James mentions warthog food, Amber gets an idea. She gets out of the painting, paints warthog food and gets back into the painting. She promises the warthogs can have the food if they behave. Everything goes on well and both James and Amber get the painting they want.
Meanwhile, Hildegard insists she knows how to find the dog, and after failing to give a explanation how, Sofia finally loses her patience with her and goes away by herself to find the dog. Hildegard finally admits that she pretends to know everything because she thinks princesses are supposed to know everything. Sofia asks her why she believes that and Hildegard reveals why: when she joined Royal Prep, she didn't have any friends yet. When she went to join her older sister and her friends, they asked her to try their princess twirl. But she didn't know how to twirl like them, so she fell down, and her sister's friends laughed at her. That is why, she acts like she knows everything, only because she wants everyone to like her. Sofia feels bad for Hildegard and tells her, to make friends, she just has to be humble and kind. and they both grow closer to each other.
They find the dog, which the bull is torturing. Hildegard bravely faces the bull and knocks him down and even gets back her paintbrush. They start their journey of going back to the first painting and Sofia even teaches Hildegard how to sail. They give the dog to the man and he gives them the exit spell. The two get out of the painting and Flora comes to inspect their paintings. When they go back, Hildegard and Sofia hug, telling each other they are happy to be friends.
Cast
Songs
Trivia
The title can be a reference to The Kid Stays in the Picture, the 1994 autobiography of film producer Robert Evans, which was later adapted into a film.
This is the first episode that Sofia has an adventure with Hildegard. This is also an episode where Hildegard has an active role.
It is discovered in this episode that Princess Hildegard has an older sister.

Her name hasn't been mentioned, but according to Craig Gerber, her name is Astrid.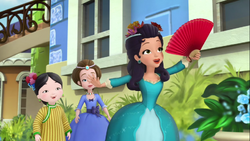 This episode features flashbacks of previous episodes that starred Hildegard such as:
This episode shows flashbacks when Princess Hildegard was a little girl. This is the fourth episode that features a flashback of characters, the others were "Let the Good Times Troll", "Baileywick's Day Off" and "Mom's the Word" with the exception of "The Amulet and the Anthem" which flashbacks were when Sofia bragged about herself.
Even as a director of this show, this is Jamie Mitchell's second episode voicing a character (the happiest Old Man in the whole school), the first being "Finding Clover" voicing Magic Dove. Magic Dove later returned in "The Leafsong Festival" as the director of the event.
Moral: Never act like you have an answer when you don't
This is the sixth episode where Sofia reforms a negative character.
Gallery
Color Script
Screenshots
v - e - d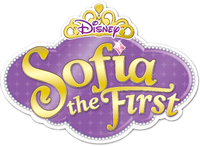 Characters
Princess Sofia • Queen Miranda • King Roland II • Prince James • Princess Amber • Princess Hildegard • Cedric the Sorcerer • Wormwood • Baileywick • Robin • Mia • Clover • Whatnaught • Goodwyn the Great • Winifred the Wise • Jade • Ruby Hanshaw • Princess Clio • Prince Zandar • Princess Jun • Prince Hugo • Minimus • Princess Vivian • Crackle • King Marcus and Queen Cecily • Trolls• Lucinda • Prince Jin • Magic Carpet • Jasper • Prince Khalid • Meg and Peg • Madam Ubetcha • Prince Desmond • Miss Nettle • Sir Gillium • Professor Popov • Helen Hanshaw • Oona • Queen Emmaline • Cora • Plank • Aunt Tilly • Wilbur the Wombeast • Sven • Emperor Quon • Empress Lin-Lin • Rex • Prince Axel • King Garrick • Electra • Vaughan and Vance • Marla • Sir Bartleby • Sir Maxwell • Sir Finnegan • Gwen • Chef Andre • Sofia the Worst • Lady Joy • Lord Gilbert • Wu-Chang • Jade Jaguar • Sir Dax • Boo • Princess Lani • Mamanu • Kamea and Halia • Praline • Freedo • Princess Zooey • Princess Astrid • Slickwell • Greylock the Grand • Princess Ivy • Dragons of Enchancia • Winter • Whiskers • Glacia the Ice Witch • Elliot, Amy, and Kurt • Tizzy • Master Erwin • Bryce Twigley • Button, Benngee, and Brody • Mossy • Carol of the Arrow • Jane • Princess Kari • Miss Elodie • Fluke • Slim • Shelly • Flip • Mantacorn • Onyx and Opal • Wendell Fidget • Mrs. Fidget • Saffron • Muck, Gunk, and Grime • Spruce • Ballerina • Mazzimo • Prince Roderick • Gavin • Kazeem • Sergeant Fizz • King Habib and Queen Farnaz • Chief Gnuckles • Flinch • Grotta • Elfonso • Elfred • Milo the Snake • King Henrik • Cordelia the Conjuror • Calista • Morgana • Crispy • Barley • Sassofras • Professor Zacharias Fleeber • Grand Mum • Gemina and Argus • Count Barnstorm • Sir Oliver • Sir Jaxon • Willawing • Kai • Princess Charlotte • Morris • Zinessa • King Philip and Queen Everly • Lily • Indigo • Marty and Maple • Mandy • Grimtrix • Wriggley, Pumpkin, and Chester • Skye • Piccolo • Baron Von Rocha • Professor Pecullian • Sea Monsters • Malachite and Fig • Omar • Prisma • Azurine • Orion • Vega • Chrysta • Sizzle • Cinder • Singe • Mare of the Mist • King Roland I • Roma • Giggling Goblin • Captain Quivers • Twitch • Vor • Nerissa


Elena of Avalor: Princess Elena • Princess Isabel • Francisco • Luisa • Shuriki • Alacazar • Zuzo • Mateo • Migs, Luna, and Skylar • Rafa • Chancellor Esteban • Armando • King Raul and Queen Lucia • Naomi Turner
Guest Characters: Flora, Fauna, and Merryweather • Cinderella • Jasmine • Magic Carpet • Belle • Ariel • Aurora • Snow White • Mulan • Rapunzel • Tiana • Merida • Olaf • Merlin • Archimedes
Community content is available under
CC-BY-SA
unless otherwise noted.