"The Rival" is an episode of Wander Over Yonder.
Plot
When Emperor Awesome shows up on Dominator's ship, Peepers and Hater must figure out if the two are joining forces, dating, or both.
Episode Summary
Hater is silently stalking Dominator with his ship and comes up with a pick-up line for her but discovers to his shock that Emperor Awesome space Limo is parked right next to her ship. He informs this situation to Peepers who was equally shocked. Peepers offered an explanation that it could be someone elses Limo but that was shot down when Awesome shows himself and asked Dominator if he could come in, and to Hater and Peeper's surprise she lets him in.
Lord Hater throws himself in depression and Peepers grows worried as they both thought different reasons of the two villains joining forces. Peepers believed that Awesome has a secret weapon while Hater assumes that they're dating. Despite the difference, the two decide to spy on them to find out what they are planning. Their first attempt involves using the ship's telescope which after Hater's bad attempt at lip reading discover that Awesome pulling dance moves at her. However, she was annoyed and proceeds to throw him off her ship. Hater mistook her actions for taking Awesome for a makeout session but Peepers suggested that they need more information and they should send a spy inside her heavily armed fortress ship.
Jerry, a Watchdog was selected for this mission but was too scared to go after getting the debriefing from Hater and Peepers ordering him to enter Dominator's Ship filled with two powerful Conquerors and their armies. They immediately sent Jerry aboard the ship with a camera taped onto him, where they can watch what he sees. Jerry, despite being cautious was discovered by Dominator's bots and panickally hid inside a cleaning closet. Fortunately, Awesome and Dominator were close by were he was able to spy on their conversation about a secret weapon he's offering which gotten Dominator interested. Hater and Peepers tries to listen to more of their conversation but because of Jerry's cowardly whimperings they couldn't and Jerry's tears ended up shorting out the camera. With their spy out of commission, the two decide to infiltrate the ship themselves to see this secret weapon.
Onboard Dominator's ship, a troop of Fist Fighters are marching on patrol and trailing behind them are Peepers and Hater disguised as a large Fist Fighter. They soon discover a tarp covered object protected by Fist Fighters and believed that it is the secret weapon Awesome mentioned. They manage to swipe the weapon from them before being chased across the ship by Awesome's and Dominator's troops where they eventually end up delivering the weapon unintentionally to Dominator. A Fist Fighter pushes them away and declares that this weapon of Emperor Awesome will not only conquer the galaxy, but also her heart. The weapon was uncovered revealing to be just Emperor Awesome striking a pose while trying to impress her, leaving Dominator in disbelief. Peepers was relieved that they were not teaming up to conquer the universe but Hater was in tears believing that Awesome has stolen his chance at winning Dominator's heart. Peeper's reassures him that that is not the case as they witness Dominator encasing Awesome in a magma shell while insulting him for wasting her time believing that he could climb to the top with her help and mentions that Hater is not as delusional as Awesome and angrily kicked him off her ship as well as ordering her bots to attack his minions. Hater on the other hand was dancing in joy at Dominator mentioning his name and nearly gets blasted by Dominator before escaping to his ship with Peepers. While he was still dancing, Peepers warns him that Dominator is cold and heartless, and seriously doubts that she is interested in looking for romance but Hater dismissed his comment saying she's not that evil.
Back at Dominator's ship, a weapon was heard charging and it blasts away Emperor Awesome's Limo where his custom licence plate smashes into the TV screen and burns away to nothing while Dominator's laughs evilly.
End Credits
Jerry, still hiding in the closet, is discovered by Lord Dominator. Jerry attempts to escape, only to crash into another wall. Dominator walks away saying "What is with these guys?"
Trivia
This is the fifth episode where Wander and Sylvia are absent. ("The Axe", "The Good Bad Guy", "The New Toy", "The Eye on the Skullship")
This is the Second time Awesome flexes his butt while Hater watches. (The Picnic)
It was unknown whether Emperor Awesome was dead or alive at the end of the episode until in "My Fair Hatey", he was shown to be captured and all the other villains except Lord Hater until they all escaped in "The Bad Neighbors".
Lord Dominator says "scrub", which is a slightly adult word.
Cast
Gallery
v - e - d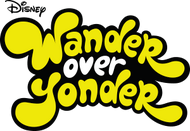 Organizations/Groups
Lord Hater's Army • Insurgent Generals • Wander and Sylvia • Bounty Hunters • Lord Dominator's Army • Galactic Villain Leaderboard • Emperor Awesome's Army
Locations
Lord Hater's Spaceship • Binglebopolopolis • Doomstone • Baaaaa-halla • Phunulon • Ballzeria • Buster • Doom Arena • Planet Ziziks • Flendar • Lord Dominatior's Spaceship • Arachnomorph Homeworld
Community content is available under
CC-BY-SA
unless otherwise noted.