"The Ron Factor" is the twenty-fifth episode of Kim Possible.
Synopsis
"The Ron Factor", as dubbed by Global Justice, is stated to be the key to Kim's success. But when Gemini kidnaps Ron, it's up to Kim and Dr. Director to save the day. But when Gemini's lair is about to self destruct one of the lasers swing at Kim, thus she gets knocked out cold.
Trivia
General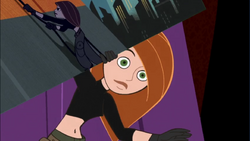 The thirtieth episode in chronological order.
An instrumental version of Naked Mole Rap can be heard when the scientist announces the discovery of the "Rufus factor".
Kim breaks the fourth wall by pushing the title sequence out of the way and says to the camera, "No no, seriously; you need Ron?"
First appearance of Gemini.
We learn that Dr. Director's first (real) name is Betty and that Gemini is her fraternal twin brother Sheldon.
Ron's name is said 50 times in this episode.
Ron's star sign is revealed to be Virgo.
Goofs
When Kim and Monique are shopping (just before Ron struts through), Monique pulls a green shirt from a setup of yellow shirts.
When Ron says "Sheldon?" the cuffs on his wrists (the ones strapping him to the chair) disappear.
The lines on Gemini's gauntlet appear and disappear at random throughout the episode.
After Kim and Dr. Director blast through the door, the fire that was burning disappears without a trace.
Continuity
Kim mentions Ron's 'Big-headedness' and refers to when he came up with the idea of the Naco when he's strutting around Bueno Nocho after being told about the 'Ron-Factor'.
Although Global Justice may consider the "Ron Factor" to be a Non-Factor, at the end of the episode, in the movie, A Sitch In Time, the Supreme One, did split up the team, and relocate Ron as far away as possible, because together, Ron and Kim are a pretty solid team. The Supreme One was able to take over the planet after splitting them up, proving that the Ron Factor was a very real factor for the victories of Team Possible.
Allusions
The backdrop of the entire episode bears a resemblance to Marvel Comics' James Bond style comic "Nick Fury, Agent of S.H.I.E.L.D.". Nick Fury, an eyepatch-wearing secret agent, is head of S.H.I.E.L.D., an international spy organization that fights evil wherever it occurs. Among his many opponents is his evil twin brother Jacob, who uses the Zodiac-inspired codename of "Scorpio".
Home video releases
DVD
Kim Possible: The Complete Second Season
Gallery