"The Silent Knight" is the thirtieth episode of the Disney Junior animated series, Sofia the First. It premiered on May 9, 2014, and is the fifth episode of the second season.
Plot
In the Kingdom of Enchancia, all the knights in the Kingdom are gathered for the Shield of Valor Ceremony, an award that's given to someone for doing something very brave and the one getting it is Aunt Tilly who tamed the dreadful Dragon of Dashood and taught him how to knit. At this gathering, Sofia meets her favorite knight Sir Bartleby, also known as the Silent Knight since he never speaks in public. King Roland announces that it is time for the precession and so all the knights get to their horses. Tilly decides to go for a ride too and gallops around the fields facing backwards. But her ride is shortened when her horse suddenly halts to a stop nearly crashing into a man. The horse kicks her off, Aunt Tilly flies through the air and lands in the arms of Sir Bartleby. As the two look at each other, Sofia notices there is some sort of spark between them. However, Bartleby says nothing to her, he bows and quietly walks away. Curious to know, Sofia goes off to find out.
Meanwhile, Roland is inspecting the knights' precession when he notices James riding along on a pony holding a sword and wearing a helmet. James tells his father he wants to be a knight but Roland tells him that becoming a knight takes years of training and James needs to be a squire first. James complains that a squire just follows the knight around and carries his stuff. Sir Finnegan tells James that a squire does much more than that and Roland tells him being a squire is a very important job and the first step to becoming a knight. So with that, James decides to be Sir Finnegan's squire.
Sofia finds Sir Bartleby and asks him if he likes her Aunt Tilly. Still, Bartleby won't speak but after being asked many times he finally answers in a high squeaky voice "I love her!" Here it turns out he can talk but doesn't like to, not with the voice he has which is why he's too afraid to tell Tilly how he feels because he doesn't know how she will react to the way he speaks. Sofia suggests he could write about how he feels rather than say it. Bartleby thinks that's a good idea and begins writing a poem for Tilly while James starts to see how hard being a squire can be. Bartleby finishes his poem but he thinks it sounds silly. When they see Tilly and Miranda coming in their direction, Sofia encourages Bartleby to go to her and just as he's about to a gust of wind catches his poem and flies away from him. Riding a shield and with Sofia following, they sled down the grassy hill after the poem where it lands in Roland's hands who accidentally uses it as a tissue to sneeze on. Bartleby sadly walks to the hedges feeling hopeless. Sofia still feels he should still tell her but he still feels too embarrassed by his high pitch voice. When they hear Sir Maxwell singing this gives Bartleby an idea. He will pretend to sing while Maxwell sings from behind a bush. Sofia secretly doesn't think it's a good idea but she still goes along with it.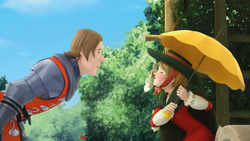 Meanwhile, James gets so fed up with being a squire that he decides to quit just as he passes Tilly. He feels that doing nothing but sharpening and polishing is boring. Tilly tells him that being a knight is about more than just riding a horse with a big sword and shield: it's also about being the first to head into dark creepy woods to see what's lurking there, climbing the tops of icy peaks to battle snow monsters and that can't all be done without a well saddled horse and clean armor. This makes James understand why Sir Finnegan is being so tough on him: He's training him to be a knight at the same time. So he goes back and finishes off polishing Finnegan's armor. Sofia shows up and escorts Tilly to the garden where Sir Bartleby is waiting for her. She tells her he will sing for her. Tilly is surprised by this and takes a seat on the porch. Sir Maxwell begins to sing Bartleby's poem while Bartleby lip sings to her. Tilly is flattered by his song and really falls for him. However, just before the two can share a kiss Bartleby slips and accidentally reveals Maxwell singing from behind a bush. Realizing that it was not Bartleby singing, Tilly feels a little insulted and quietly walks away after Bartleby fails to give her an explanation. Seeing his friend down in the dumps, Maxwell decides to take Bartleby to do some fencing practice to take his mind off things.
As Sofia watches Bartleby and Maxwell battle each other, she notices that some of Bartleby's fighting skills look quite like dancing which gives her an idea. Meanwhile Roland finds James still polishing Finnegan's armor. He tells him he should go and get ready for the banquet tonight but James says he's not going because he has a lot of work to do. At the banquet Bartleby takes Tilly's hand to dance. It goes very well until Bartleby bumps into a servant with some water. The water spills across the floor, Bartleby and Tilly slip, slide and then fall. Bartleby says he is sorry, but after realizing he spoke, he quickly rushes out of the ballroom with Sofia trying to catch up with him. Bartleby decides to give up and thinks he's better off being alone.
The next day, James quickly prepares Sir Finnegan for the ceremony, which finally earns him the knight's respect. Meanwhile, Sofia tries to encourage Bartleby not to give up and not to be afraid to be himself no matter how strange his voice sounds. At the ceremony, it is time to reward Tilly with the Shield of Valor. Sir Bartleby is given the honor to present the shield and although nervous he finally tells her how he feels, revealing his squeaky voice to the crowd. He admits the reason he didn't speak up in the first place was because he was worried about what she would think of his voice, but Tilly loves his voice as she loves one of a kind things. After being rewarded with the Shield of Valor, Tilly and Bartleby go off on an adventure to the Enchanted Forest together.
Songs
Cast
Gallery
Goofs
After Sir Bartleby's voice is heard by Aunt Tilly for the first time and runs away from her, Sofia goes after him and said "Wait!" However, her mouth is not even moving.
Near the end of the episode, Amber pronounces Aunt as "Ahnt".
Trivia
This episode includes Aunt Tilly's second appearance in the series. Her first appearance was in the episode "Great Aunt-Venture".
James and Amber see the "real" Aunt Tilly for the first time.
This is the second time that Amber wore her ball dress, the first time was in Sofia the First: Once Upon a Princess.
Aunt Tilly's face glows red when flirting Sir Bartleby.
This episode nearly shows a kiss scene for the first time in the series.
This is the first episode to focus on Sofia and James equally.
The episode title is a pun on the classic Christmas carol Silent Night.
Moral: Never be afraid to be yourself.
v - e - d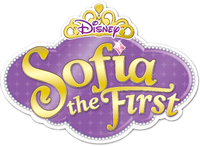 Characters
Princess Sofia • Queen Miranda • King Roland II • Prince James • Princess Amber • Princess Hildegard • Cedric the Sorcerer • Wormwood • Baileywick • Robin • Mia • Clover • Whatnaught • Goodwyn the Great • Winifred the Wise • Jade • Ruby Hanshaw • Princess Clio • Prince Zandar • Princess Jun • Prince Hugo • Minimus • Princess Vivian • Crackle • King Marcus and Queen Cecily • Trolls• Lucinda • Prince Jin • Magic Carpet • Jasper • Prince Khalid • Meg and Peg • Madam Ubetcha • Prince Desmond • Miss Nettle • Sir Gillium • Professor Popov • Helen Hanshaw • Oona • Queen Emmaline • Cora • Plank • Aunt Tilly • Wilbur the Wombeast • Sven • Emperor Quon • Empress Lin-Lin • Rex • Prince Axel • King Garrick • Electra • Vaughan and Vance • Marla • Sir Bartleby • Sir Maxwell • Sir Finnegan • Gwen • Chef Andre • Sofia the Worst • Lady Joy • Lord Gilbert • Wu-Chang • Jade Jaguar • Sir Dax • Boo • Princess Lani • Mamanu • Kamea and Halia • Praline • Freedo • Princess Zooey • Princess Astrid • Slickwell • Greylock the Grand • Princess Ivy • Dragons of Enchancia • Winter • Whiskers • Glacia the Ice Witch • Elliot, Amy, and Kurt • Tizzy • Master Erwin • Bryce Twigley • Button, Benngee, and Brody • Mossy • Carol of the Arrow • Jane • Princess Kari • Miss Elodie • Fluke • Slim • Shelly • Flip • Mantacorn • Onyx and Opal • Wendell Fidget • Mrs. Fidget • Saffron • Muck, Gunk, and Grime • Spruce • Ballerina • Mazzimo • Prince Roderick • Gavin • Kazeem • Sergeant Fizz • King Habib and Queen Farnaz • Chief Gnuckles • Flinch • Grotta • Elfonso • Elfred • Milo the Snake • King Henrik • Cordelia the Conjuror • Calista • Morgana • Crispy • Barley • Sassofras • Professor Zacharias Fleeber • Grand Mum • Gemina and Argus • Count Barnstorm • Sir Oliver • Sir Jaxon • Willawing • Kai • Princess Charlotte • Morris • Zinessa • King Philip and Queen Everly • Lily • Indigo • Marty and Maple • Mandy • Grimtrix • Wriggley, Pumpkin, and Chester • Skye • Piccolo • Baron Von Rocha • Professor Pecullian • Sea Monsters • Malachite and Fig • Omar • Prisma • Azurine • Orion • Vega • Chrysta • Sizzle • Cinder • Singe • Mare of the Mist • King Roland I • Roma • Giggling Goblin • Captain Quivers • Twitch • Vor • Nerissa


Elena of Avalor: Princess Elena • Princess Isabel • Francisco • Luisa • Shuriki • Alacazar • Zuzo • Mateo • Migs, Luna, and Skylar • Rafa • Chancellor Esteban • Armando • King Raul and Queen Lucia • Naomi Turner
Guest Characters: Flora, Fauna, and Merryweather • Cinderella • Jasmine • Magic Carpet • Belle • Ariel • Aurora • Snow White • Mulan • Rapunzel • Tiana • Merida • Olaf • Merlin • Archimedes