"
The Stray
" is an episode of
Wander Over Yonder
.
Synopsis
When Wander finds a sad stray cat, Little Bits, he has her come along with he and Sylvia and follows whatever she wants him to do for her. Sylvia isn't sure about Little Bits' needs for Wander, and suspects there is something dark about her, which turns out to be true enough.
Plot
On a bleak planet, a homeless kitty cat is trying to sell some mud. Wander notices her and is drawn by her sad eyes, but Sylvia is not taken in, hence she's disgusted by the cat's appearance. Wander manages to convince her though, and drags her up to her. Wander names the cat Little Bits and vows to give her help, as well as do everything she wants for her.
Later in a tea shop, Wander asks Little Bits where her whelping box is, but she shakes her head. He continues asking her who takes care of her, only to get a head shake, before Sylvia intervenes, asking if she has anyone, such as a distant relative or a "kooky cat lady", which she gets an approval from. She agrees to show Wander the way, and just as Sylvia suggests calling a cab, Wander forces her to come along with them.
As the trio walk through town, Little Bits begins sneezing, and Wander declares she's getting a cold. He warns Sylvia about this, and before Sylvia could suggest anything, Wander instantly knits a fur coat and matching hat out of his own fur. As soon as they leave, Sylvia begins suspecting something strange about her.
The trio make their way out of town and into a desert, where Wander now wears a potato sack to hide his bald tummy. As Sylvia speaks to her, she stops and shows Wander her bare feet, leading him to say she wants to travel differently. Sylvia wants to carry her, but Wander asks Little Bits how she'd like to travel. After staring into her eyes for a minute, she is later seen wearing his shoes, and Wander's feet are hurting with each step.
Wander refuses to let Sylvia carry him and suddenly uses his body as a bridge to cross a mud puddle, before Little Bits has her severed stuffed bear get taken away by a monster and hidden in its cave. Wander fights the monster and gets the bear back, and Little Bits likes this so much, she repeatedly has Wander do it again before Sylvia stops them. After she rounds on Little Bits, she scowls at her, which Wander deems cute, prompting Sylvia to utter, "This is why I don't have pets."
Later that night around a fire, Wander tells Little Bits about Lord Hater's 17 secret tickle points while Sylvia angrily eats a drumstick. Little Bits then gets drowsy and falls asleep on Wander's lap, which he is delighted by, but then she fights him in her sleep, Wander refusing Sylvia's help. After she finally stops, Sylvia tries to talk to him but is constantly interrupted when Wander sings a lullaby for Little Bits and eventually falls asleep. Sylvia eventually gives up and decides to talk in the morning.
Not long later, Sylvia awakens to the sound of snickering and goes over to see Little Bits with her bear in the woods, which projects a hologram of Lord Hater which Little Bits talks to, stating she has Wander under her control. Sylvia confirms that Little Bits is a bounty hunter and knew something was up with her, and Little Bits knocks her out before she could say more.
The next morning, Sylvia wakes up to see Wander staring at Little Bits, revealing he was hypnotized by her cuteness. After Little Bits talks with Lord Hater and asks him to activate the teleportation pad (before responding to his requests to say certain things, much to her annoyance), she reveals it from underneath a bush and waits for it to charge so Wander can step on it and be sent to the ship. Sylvia can't come to help because a chain is strapped to her foot, but she manages to briefly break Wander out of Little Bits' hypnosis by telling him they should get out of here.
Little Bits calls Wander's name and he turns toward her, causing him to get hypnotized again as he walks toward her. Sylvia fakes her own sad eyes and starts calling for Wander, resulting in a back and forth duel between the two sad-faced victims. After Sylvia's last sad face disgusts him, he ends up going to Little Bits and stepping onto the pad, and she points out to Sylvia that he never leaves her side, just as she never leaves him. Sylvia sadly agrees and joins them just as the pad fully charges, only for her to reveal they're not going anywhere. She winds up her fist and, despite the feline's assumption, punches Wander out of the way and jumps off, just as Little Bits gets herself teleported.
Sylvia walks up to Wander, who wakes up with no recollection of the entire adventure and wonders if they helped Little Bits, to which Sylvia thinks they did. She then fakes goo-goo eyes and pleadingly asks Wander if they can go back to town, and Wander agrees, once he figures out what is wrong with her eyes. As the two leave, Wander wonders why he's wearing a potato sack, and the scene cuts to black.
End credits
Hater is about to punish Little Bits by boiling her in oil, but Little Bits attempts to give Hater the sad puppy dog eyes. Hater attempts to resist telling her to "not insult him" and when she tries again, Hater refuses since there is "too much hate in him". However, it is implied that he spares Littler Bits the punishment after hearing her say the line he wanted her to say earlier.
Cast
Songs
Goofs
When Wander asks Little Bits if he would like to carry her, Sylvia's eyelashes are off.
When Sylvia wakes up to see the hypnotized Wander with Little Bits, Wander is clean; later when Little Bits reveals her teleportation pad, Wander is disheveled as he was when he was fighting the beast. Then when he starts to step onto the pad, he is clean.
Trivia
When Wander is hypnotized by Little Bits and his eyes dilate as a result, they turn green at some points. This shows that the green in Wander's eyes indicate he's under Little Bits' control. It's also possible that the color of Wander's eyes are naturally green, though under normal circumstances his irises cannot be seen unless his pupils are dilated.
It's revealed Lord Hater has 17 secret tickle points.
There are hints that Little Bits is a bounty hunter throughout the episode:

In the beginning, as Wander sees Little Bits for the first time, his eyes turn green, which hints Little Bits is hypnotizing him.
The suit Wander makes for Little Bits resembles that of an actual bounty hunter.
After Wander finishes telling Little Bits about Lord Hater's tickle points, she giggles happily and rather long, which shows that she knows Lord Hater.
v - e - d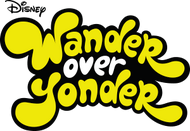 Organizations/Groups
Lord Hater's Army • Insurgent Generals • Wander and Sylvia • Bounty Hunters • Lord Dominator's Army • Galactic Villain Leaderboard • Emperor Awesome's Army
Locations
Lord Hater's Spaceship • Binglebopolopolis • Doomstone • Baaaaa-halla • Phunulon • Ballzeria • Buster • Doom Arena • Planet Ziziks • Flendar • Lord Dominatior's Spaceship • Arachnomorph Homeworld
Community content is available under
CC-BY-SA
unless otherwise noted.