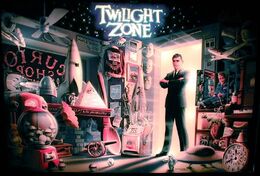 "There is a fifth dimension, beyond that which is known to man. It is a dimension as vast as space and as timeless as infinity. It is the middle ground between light and shadow; between science and superstition, and it lies between the pit of Man's fears and the summit of his knowledge. This is the dimension of imagination. It is an area in which we call...the Twilight Zone."
―Rod Serling, Season 1 opening monologue of the original Twilight Zone series

"The Twilight Zone" is a TV series which went on 1959-1964 and was created by Rod Serling.  It was an anthology series which connected itself with the narrative device of the titular Twilight Zone, a mysterious 5th dimension based off of the laws of conceptuality rather than those of nature.  The show was best known for its horror episodes which often heavily used twists and high-concept existential terrors not limited to science-fiction, fantasy or real laws of nature.
This TV show inspired the Twilight Zone Tower of Terror attraction which holds many references to the classic television series.
v - e - d
Miscellaneous
We'll Meet Again • The Twilight Zone (TV series) • Kokoko tribe • Mtundu tribe