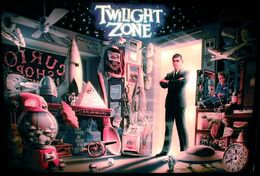 "There is a fifth dimension, beyond that which is known to man. It is a dimension as vast as space and as timeless as infinity. It is the middle ground between light and shadow; between science and superstition, and it lies between the pit of Man's fears and the summit of his knowledge. This is the dimension of imagination. It is an area in which we call...the Twilight Zone."
―Rod Serling, Season 1 opening monologue of the original Twilight Zone series
"The Twilight Zone" is an alternate parallel dimension. It is the namesake setting for every incarnation of The Twilight Zone TV shows including the special original series episode "Tower of Terror".
It is an eldritch location, a place where the laws of physics don't apply and the magical and the supernatural are common place. It's commonly described as "a dimension not only of sight and sound, but of mind".
The Twilight Zone seems to be sentient to some extent, as it manipulates events to punish those it deems "unworthy", or just to torment the innocent. Time and continuity have no meaning in the Twilight Zone, which can snap back from any calamity created by its eldritch power.
The ruler of the Twilight Zone is a god-like cosmic being usually called "Rod Serling". However, this being is not the real Rod Serling, it merely assumed his shape. "Rod Serling" is an impartial figure, narrating the events that transpire in the Twilight Zone to any living being who may listen. He is usually immune from the Twilight Zone's power, although at times even he was affected by the monstrous calamities plaguing the Twilight Zone.
Community content is available under
CC-BY-SA
unless otherwise noted.