The Ugly Duckling is an animated short film produced by Walt Disney and the 75th and final entry in the Silly Symphony series. The film is based on the fairy tale "The Ugly Duckling" by Hans Christian Andersen where a duckling is harassed and persecuted because of his homeliness but eventually matures into a swan, the most beautiful bird of all.
Walt Disney had earlier produced a black-and-white Silly Symphony episode under the same title in 1931, but with several key differences. For example, the Ugly Duckling in the 1931 version is actually a duck who is hatched by a chicken. The color film, produced in 1939, more closely follows the original story and won the 1939 Academy Award for Best Animated Short Subject. In this version, the baby swan's suffering is shortened, as he is found and taken in by the Swans after only a day of rejection and ostracism rather than a whole year.
The abbreviated version is read by Lilo to Stitch in the 2002 Disney animated film Lilo & Stitch. The story has a deep impact on Stitch, who is inspired to set out to look for his real family.
The Ugly Duckling was Disney's last Silly Symphony short and the only one to be a remake of an earlier episode.
Synopsis
A remake of an earlier Silly Symphony retells the story of an outcast duckling whose search for a family to accept him leads to constant rejection before learning his true identity as a swan.
Characters
Literary Adaptations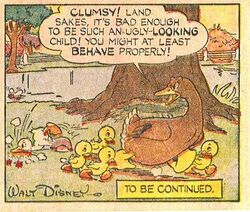 Like many Disney productions, The Ugly Duckling has been adapted several times into children's books; some of which were published directly by Disney and others in association with non-affiliated companies like Little Golden Books.  The initial success of the film also inspired a short-lived newspaper strip in 1939 as well as occasionally being featured in various Disney comic book serials.
Releases
Television
Home video
VHS
DVD
Merchandise
Although not as prominent as some of Disney's other films, a substantial amount of merchandise tied into the The Ugly Duckling has been produced; mostly decorative pins sold as part of a limited collector's set
Gallery
Community content is available under
CC-BY-SA
unless otherwise noted.