"
The Waste of Time
" is an episode of
Wander Over Yonder
. It aired on
April 11
,
2016
.
Plot
When Wander and Sylvia accidentally buy Time Orbbles, Sylvia must keep Wander focused or risk being lost in time forever.
End Credits
Wander watches his past self attempt scoot down the hill during the events of "The Picnic"
Background Information
This episode shows how Wander and Sylvia first met.
Trivia
Sylvia breaks the fourth wall when she says "We can't keep wasting our time watching past episodes...of our lives."
This episode confirms that Wander was previously known as Tumbleweed, a fact that was first mentioned in "The Good Bad Guy". It is possible Wander could be thousands of years old or immortal.
Apparently, Sylvia worked as a bounty hunter before she decided to join Wander on his travels, and even captured Wander at one point, a fact that she is not proud of but Wander already knew she was once bad.
Continuity
Wander and Sylvia visit the events of the past episodes including "The Picnic" and "My Fair Hatey"
Allusions
Star Wars - At one point, Wander quotes the opening line of this film franchise.
Wilbur and Orbble Wright are an obvious parody of Wilbur and Orville Wright who made the first airplane flight at Kitty Hawk, North Carolina in 1903.
Cast
Piotr Michael as Major Threat
Andy Bean as Oroble Wright
Fuller Codon as Wilmur Wright
Sam Riegel as Admiral Admirable
v - e - d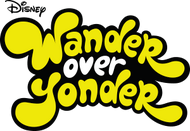 Organizations/Groups
Lord Hater's Army • Insurgent Generals • Wander and Sylvia • Bounty Hunters • Lord Dominator's Army • Galactic Villain Leaderboard • Emperor Awesome's Army
Locations
Lord Hater's Spaceship • Binglebopolopolis • Doomstone • Baaaaa-halla • Phunulon • Ballzeria • Buster • Doom Arena • Planet Ziziks • Flendar • Lord Dominatior's Spaceship • Arachnomorph Homeworld
Community content is available under
CC-BY-SA
unless otherwise noted.