The Way of the Dave is the first half of the 7th episode of Dave the Barbarian.
Synopsis
Candy's quest for an ultra-trendy antler hat takes her out of the kingdom and in direct conflict with Chuckles the Silly Piggy.
Plot
The Narrator introduces us to the castle of Udrogoth, where Dave is trying to flip gourmet apricot pancakes. He gives them to Fang, who complains that gourmet cooking isn't barbariany. They begin arguing, only to be halted by Uncle Oswidge. As he starts enjoying his breakfast, Fang reminds Dave of their duties: Candy is in charge of the castle because she is the oldest, and Dave has to protect Udrogoth because he is the biggest. She asks him why he isn't acting like a real barbarian, to which he replies that he only wanted to be a barbarian at the age to 10 because he thought "barbarian" meant a librarian who also cuts hair.
Meanwhile, Candy is at the Great Indoor Marketplace trying to make new friends.
Characters
v - e - d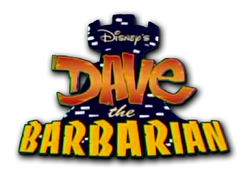 Locations
Udrogoth • Great Indoor Marketplace • Sorcery School • Hyrogoth
Community content is available under
CC-BY-SA
unless otherwise noted.