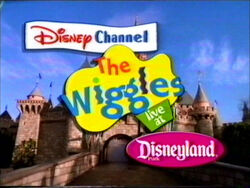 The Wiggles Live at Disneyland is a television special which aired on Disney Channel in Australia in 1998. The special centers on the Wiggles going around Disneyland, looking for Mickey Mouse, while also doing a live concert.
The special was shown on Disney Channel Australia on December 20, 1998 before The Wiggles were able to pay their TV show of 13 episodes to the Disney Channel itself.
Plot
The Wiggles arrive at Sydney Airport and board a plane to Anaheim, California, where they are met by their friends; Dorothy the Dinosaur, Wags the Dog, Captain Feathersword, and Henry the Octopus. In mid-flight, Jeff falls asleep and it moves into a dream sequence; The Wiggles wake him up at the Disneyland entrance and plan to look for Mickey Mouse. After surveying a park map, they decide to split up to search the whole park: Greg and Murray, and Anthony and Jeff.
Meanwhile, The Wiggles and their friends perform a concert at the Fantasyland Theater. Segments of the concert are shown in between park rides.
Both groups travel through particular "themed lands" in the park, going back and forth to between each group; Greg and Murray visit Adventureland to ride the Jungle Cruise, but have no luck finding Mickey. Meanwhile, Anthony and Jeff visit Tomorrowland, where Jeff takes a ride on the Astro Orbitor, while Anthony experiences Honey, I Shrunk the Audience. In Critter Country, Greg and Murray ride Splash Mountain, while Anthony and Jeff visit Fantasyland to enjoy smaller rides such as the King Arthur Carrousel, Mad Tea Party, and Dumbo the Flying Elephant, where they finally spot Mickey's house in Toontown. When the news reaches Greg and Murray, they head to Frontierland to ride Big Thunder Mountain Railroad and get to Toontown faster.
In Toontown, the Wiggles meet up and do some more exploring; Greg visits Goofy's Bounce House, Murray visits Goofy's Gas, and Jeff visits Minnie's House, searching for a place to sleep. The Wiggles finally spot Mickey while riding the Jolly Trolley.
Jeff visits Mickey's House, still searching for a place to take a nap, before settling on the red car in Mickey's driveway. Jeff eventually wakes up on the plane again, where he wonders if the whole day was a dream.
The special ends with the Wiggles and their friends closing the concert with a final medley of songs.
Characters
Songs
Gallery
Community content is available under
CC-BY-SA
unless otherwise noted.