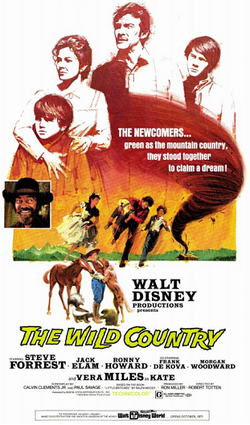 A genre that Disney traditionally excels in, the wilderness family adventure, is the focus in the 1970 production of The Wild Country. Familiar faces dot the cast, including Steve Forrest, Vera Miles, Jack Elam, Rance Howard and his sons, Ron and Clint, Dub Taylor, and Mills Watson.
Plot
Uprooted from their comfortable home in Pennsylvania, James and Kate Tanner, along with their sons Virgil and Andy (played by real-life brothers Ron and Clint Howard) journey to the wild country of 1890's Wyoming to become farmers. Soon, they come face to face with tornadoes, bears, and wolves. But through the hardships their love for each other endures, even when a local rancher sees the newcomers as "squatters" on his land, and will stop at nothing -- including murder -- to drive them out.
Cast
Steve Forrest as Jim Tanner
Vera Miles as Kate Tanner
Ron Howard as Virgil Tanner (as Ronny Howard)
Clint Howard as Andrew Tanner
Dub Taylor as Phil
Jack Elam as Thompson
Frank DeKova as Two Dog
Morgan Woodward as Ab Cross
Woody Chambliss as Dakota (as Woodrow Chambliss)
Karl Swenson as Jensen
Mills Watson as Feathers
Gallery
Community content is available under
CC-BY-SA
unless otherwise noted.