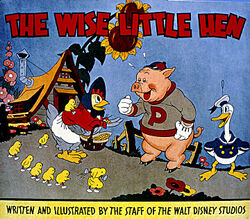 The Wise Little Hen is a Silly Symphony short released on June 9, 1934. It marks the debut of Donald Duck and is based on the fairy tale The Little Red Hen.
Plot
The Wise Little Hen lived with her chicks. They were running low on food and she was worried, so she decided to plant some corn. So they set off to Peter Pig's house. She asked him if he would help her plant corn, but sadly Peter complained of having a belly ache and snorted off. The Hen realized that he would not help her, so she skipped off to Donald Duck's house. Donald did not help her either, as he also faked a belly ache and quacked off. The Hen decided to plant the corn herself. As soon as the corn had grown, the Hen asked Peter and Donald again if they would help her. They faked belly aches again and went into the club house they owned. Peter banged the door so hard the wall broke, but the Pig and the Duck were shaking hands without noticing the wall at all. The Hen saw through their trick and agreed with her chicks to not let them eat any corn when it's done. So they harvested and cooked the corn themselves for their dinner. When they were done, the Hen decided to ask Peter and Donald if they wanted corn. They agreed and came rushing over to grab the basket full of corn. They fought over it but then decided to dig in. To their surprise, it was castor oil for belly aches! The Hen and the chicks enjoyed their meal, while Peter and Donald kicked each other in the rear for the rest of the day.
Characters
Trivia
This was Donald Duck's only color appearance until the release of The Band Concert in 1935, as Mickey Mouse cartoons from 1928 to 1935 were in black-and-white.
All of the characters' speeches are hard to interpret due to mixing in animal sounds.

This was what led to Donald to have his trademark quack-like speech.

Donald Duck was first mentioned in The Adventures of Mickey Mouse in 1931, but did not appear in it; though a similar and different duck (presumably an early prototype of him) appeared on the back cover.
Goofs
Peter's leg outline was pink in one scene.
Releases
Television
Home video releases
VHS
DVD
Gallery
Community content is available under
CC-BY-SA
unless otherwise noted.