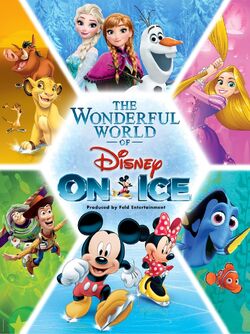 The Wonderful World of Disney on Ice (previously known as Treasure Trove, Disneyland Adventure, and originally entitled The Incredibles in a Magic Kingdom Adventure) is a show that premiered on August 25, 2005 and ended on May 12, 2019.
Plot
Disneyland Adventure (August 25, 2005 - 2011)
The first ever version had the Incredibles exploring Disneyland where they experienced Jungle Cruise, Space Mountain, Big Thunder Mountain Railroad, Haunted Mansion, Mad Tea Party, and the Pirate of the Caribbean. Plus, Syndrome barged into the Main Street parade to capture Mickey and Minnie.
In 2009, the show had slight changes with Mickey, Minnie, Donald, and Goofy as the main characters leaving the Incredibles who appeared near the end this time, Maleficent replacing Syndrome as the main villain, Daisy Duck added to break her curse by kissing Donald and Mickey doing the same for Minnie, Stitch playing in the Tiki Room, and Woody and Jessie in 2011.
Treasure Trove (September 2011 - May 2016)
On September 2011, it had a new show where Mickey, Minnie, Goofy, and Donald went on a treasure hunt. The preshow had the Incredibles from 2011 to 2013 and Toy Story characters from 2013 to 2016.
This variant added Peter Pan, The Lion King, The Little Mermaid, Beauty and the Beast, Aladdin, Tangled, The Princess and the Frog, and Mulan characters, and Aurora and Phillip.
The Wonderful World of Disney on Ice (October 4, 2016 - May 12, 2019)
Treasure Trove was retitled The Wondeful World of Disney on Ice in 2016 in DaLian, China making it the first Disney on Ice show to premiere outside the United States.
The same show's plot about Mickey, Minnie, Goofy, and Donald's treasure hunt was almost the same but with slight changes especially with the gang travelling along a memory lane and Frozen and Finding Dory added. The Princess and the Frog segment was cut, but Tiana and Naveen still appear in the show. Also, the princess segment was shifted to the end of the first act to make Frozen the final story for all other characters to join in the finale.
As of May 2018, Mickey and Minnie's new masks have been used.
Movies represented in the show
Previous stories
Gallery
Community content is available under
CC-BY-SA
unless otherwise noted.