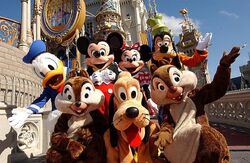 Theme Park Characters are Disney Cast Members who work at the Disney Parks and Resorts and on Disney Cruise Line ships wearing costumes of characters from many Disney properties, interacting with guests to further enjoy their visit or vacation, they generally form the backbone of the Disney Parks. They are broken down into two distinct groups, as many cast members play more than one.
As part of theme park operation, cast members in the roles of characters cannot reveal directly the identity of the character they play; instead they use the terms "friends with" or "hang out with" in the event young guests' ears are present so as not to break their spirits (and their hearts) and destroy the Disney magic. Additionally there is the Rule of One, meaning that there is only one of each character in the Disney Parks.[1]
The Walt Disney Company's official position is that each of the characters that guests meet in the parks are the same ones that one would see in a cartoon short, in a movie or in print media—in other words, they are real.
Atmosphere Characters
Face Characters
Non-meetable Characters
Disney On Ice
References