Lieutenant Commander Theodore Groves
is a British Royal Navy Officer under
Commodore Norrington
's command in
Pirates of the Caribbean: The Curse of the Black Pearl
.
Plot
He is present when
Jack Sparrow
steals the Interceptor and notes Sparrow's cleverness, saying "That's got to be the best pirate I have ever seen", the opposite of Norrington's oft-stated opinion that Sparrow is "without a doubt the worst pirate I have ever heard of". He is absent in
Dead Man's Chest
, but reappears in the third movie. Between the events of
Dead Man's Chest
and
At World's End
, Lieutenant Groves is appointed as
Lord Cutler Beckett's
second-in-command aboard the H.M.S. Endeavour. He stars in
At World's End
aboard the Endeavour and is present when Captain Jack Sparrow makes a daring escape from Cutler Beckett's grasp. He admiringly wonders if Jack plans everything out or just makes it up as he goes along but is scared off by a glare from Beckett. During the final battle, he asks Cutler Beckett for orders as the H.M.S. Endeavour was being pounded by the Black Pearl's and the
Flying Dutchman
's cannons. Beckett remains in a state of shock during the entire battle, forcing Lieutenant Groves to order the crew to abandon ship. Somehow he is picked up by the Armada and saved by the British soldiers. Groves later resurfaces in the events of
On Stranger Tides
, and is promoted to Lieutenant Commander while working under
Captain Barbossa
to find the
Fountain of Youth
aboard the H.M.S. Providence. He accompanies Barbossa on the shores of
Whitecap Bay
, only to be stranded there with the beach party as flesh-eating
mermaids
tear the Providence apart along with its crew. He scolds Barbossa for not helping the crew as the Providence is attacked but Barbossa warns him to remain silent.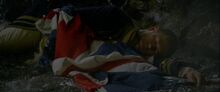 While Captain Jack Sparrow and Barbossa were held captive by the Spaniards, Lieutenant Commander Groves snuck through the Spanish picket lines (aided by a distraction Jack Sparrow made in a daring escape) and freed Barbossa from his bonds, although he lost his wig during the venture. He reached the Fountain of Youth with Barbossa and fought off
Blackbeard
's crew seeing his fellow generals and soldiers being rapidly killed by the crew. The fight is stopped by the sudden arrival of the Spanish. Trying one last time to get a British victory in the quest, Groves stood defiantly on top of the fountain claiming the Fountain to be property of the British Empire while holding a British flag. But at the same moment, the Spaniard shot Groves. When the Spanish began destroying the Fountain of Youth, Groves' body was being carried away by two British officers.
Gallery
External links
Community content is available under
CC-BY-SA
unless otherwise noted.