"There Are Spiders All Over Me!" is the third segment of the thirteenth episode of The Shnookums and Meat Funny Cartoon Show.
Synopsis
Percy Lacedaisy inadvertently saves Tex and Chafe from the polite coyotes, enabling them to take on the Wrong Riders one last time.
v - e - d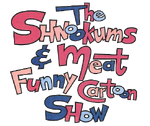 Characters
Shnookums and Meat • Toulouse • Pith Possum • Doris Deer • Obediah the Wonder Raccoon • Commissioner Stress • Lieutenant Tension • Dr. Paul Bunion • Easter Bunny Impostor • Shirley Pimple • Tex Tinstar • Smelly Deputy Chafe • Percy Lacedaisy • Floyd the Insane Rattlesnake • Wrongo • Ian and Clem • Krusty Rustknuckle
Community content is available under
CC-BY-SA
unless otherwise noted.