"Things That Go Piglet in the Night" is the second segment of the fourteenth episode of the first season of The New Adventures of Winnie the Pooh which first aired in November 19, 1988.
Synopsis
After a series of misunderstandings, Winnie the Pooh and the gang believe there is a ghost in the Hundred Acre Wood.
Plot
The episode begins in a late afternoon, Pooh, Piglet, Rabbit, Tigger and Owl are all playing on a swing hung under a large oak tree in the Hundred Acre Wood. The only ones not there are Eeyore, who is just watching, and Gopher, who pops out in his pajamas complaining about the noise and saying that it is past their bedtime and they should all be sleeping. Upon hearing this, Tigger stops the swing abruptly, causing everyone else to fall, especially Gopher, and enthusiastically states that they must go to bed early in order to wake up early in the next morning and play more. The others follow him, and when Piglet withdraws a little, Tigger tells him that he wouldn't want to stay awake in the night anyway, as there are monsters in the forest, such as 'Bumpitys' and 'Spookables'. This promptly convinces Piglet to run to his house and go to bed. Deep in the windy night, the forest seems to be full of strange howls and shadows appearing on the windows. Piglet is scared and hides inside a makeshift pillow fort on his bed, covering his ears. Temporarily satisfied that what he can't hear can't hurt him, he looks out of the fort to see an ominous shadow rushing toward him. He quickly ducks back into the fort in a panic, causing a pillow case to fall over his head. Again, he is temporarily reassured by the fact that now he won't be able to see or hear the ghosts. But what if the ghosts see and hear him, he wonders. This mere thought is enough to send Piglet into a panic, and he runs away desperately, still inside his pillow, towards Pooh's house. Unfortunately, the pillowcase prevents him from seeing where he is going, and he accidentally falls into Gopher's hole, waking Gopher, before rushing back out into the night. Moments later, he runs into a sapling which bends back and launches him into the air and onto Pooh's roof, awakening the frightened bear. He tumbles down the roof and onto Pooh's doorstep as Pooh approaches, popgun at the ready. When Pooh opens the door and sees Piglet in the pillow case, he mistakes Piglet for a ghost and runs away to get help. Pooh's screaming, in turn, frightens Piglet, who runs away in the opposite direction.
Meanwhile, Tigger is also hearing lots of strange noises, and, believing them to be 'spookables', decides to go out to investigate. After a while, he locates the source of the noise and declares that he won't let any 'Bumpities' take him by surprise. Just then a large, gray object flies in from out of nowhere, knocking him into a nearby bush. He discovers moments later that the object was Eeyore, who was also the source of the noise. Eeyore admits he is having trouble playing on the swing because he can't stay on without falling. Furthermore, since the others are always playing on the swing during the day, and not giving him a turn, he decided the only time he could practice was at night. Tigger decides to teach Eeyore how to swing.
Later, Pooh, Rabbit, Owl and Gopher have organized a ghost hunting party and are determined to catch the ghost, although they are nervous that the ghost may catch them first. Rabbit, at first takes charge of the group, but relinquishes leadership to Gopher after hearing the ghost wail yet again. As they trek through a hollowed-out tree trunk, they run into Piglet. Thinking him to be the ghost, the group runs away in a panic, with Piglet following, still unable to see where he is going. The group dash up a tree and fall off a limb into a pond, with Piglet following. However, in the fall, Piglet falls out of his pillowcase and lands on Pooh, who asks what he was doing inside of a ghost. Piglet then tells them what happened as they set off to return home. Since Piglet is not the ghost, Rabbit and Gopher are convinced that there must be no ghost after all, but Piglet insists that he had heard one. Suddenly, they all hear Eeyore screaming and are terrified, but soon head back to catch the real ghost.
Meanwhile, Tigger's first attempt to help Eeyore by glueing him to the swing hasn't worked. Tigger realizes the problem is not keeping Eeyore on the swing, but keeping him from crashing to the ground, so he decides to build an improvised glider with a parachute for Eeyore. This actually works: when Eeyore is thrown out of the swing, he flies high into the air before the glider collapses, sending him plummeting to earth. He opens the parachute, but in the dark of the night, his figure is mistaken for a ghost by Pooh and the gang when they arrive. But Tigger, confused by their attitude, explains that there is no ghost, just a donkey swinging in a parachute. Eeyore makes it to the ground, but his parachute gets hung up in the tree and he swings back and forth in the breeze. Tigger then realizes that Eeyore is swinging, and congratulates Eeyore for his success. As the sun shows up, Eeyore's parachute breaks free of the tree and floats away. The gang, seeing that it looks like fun, all join Eeyore for a ride in his parachute. As the group floats off into the distance, Pooh hopes to himself that they won't have to go through this every time Eeyore wants to swing...
Characters
Home video
Frankenpooh (VHS)
Frankenpooh and Spookable Pooh (DVD)
Special Holiday Edition (Laserdisc)
Trivia
Tigger's first line of dialogue is done by Jim Cummings, instead of Paul Winchell.
Roo appears in this episode but he doesn't speak.
Memorable Quotes
Eeyore: [watching the others enjoy their time swinging] Sure looks like fun...not that I'll ever have any.
---
Rabbit: I'm coming back first thing in the morning for my turn.
Tigger: Me too! It's the early bird that steps on the worm!
Eeyore: Bet even the worm gets a turn before me...
Tigger: Hey Piglet! Better get home too! Don't want to be here with the lights out! The woods is full of 'bumpities' and 'spookables'.
Piglet: Spookables...oh dear! Oh, d-d-d-dearie dear!
-----------------------------------------------------------------------------------------------------------------------------
Tigger: [waking up with a start after hearing an ominous noise in the night]. What was that? Either the moon's got termites...or it's them spookables! I'd better investerrate!
-----------------------------------------------------------------------------------------------------------------------------
Tigger: [hears the noise again] Gasp! A spookable! No bumpity's going to get the drop on me! [Eeyore flies in from out of nowhere and lands directly on Tigger, knocking him into a bush] OOOF!
-----------------------------------------------------------------------------------------------------------------------------
Gopher: What I want to know is how we're supposed to catch a ghost?
Rabbit: SURPRISE! [throws his net on the ground to demonstrate]
Pooh: Why, thank you, Rabbit! [giggles] Is it my birthday again so soon?
Rabbit: No, no, no! We have to catch the ghost by surprise!
-----------------------------------------------------------------------------------------------------------------------------
Piglet: [wandering through the woods with a pillowcase over his head] I should be brave. At least brave enough to peek out and see something besides my feet. But suppose I peeked out and did see...something besides my feet...POOOH!
-----------------------------------------------------------------------------------------------------------------------------
Tigger: [Eeyore has just fallen off the swing after Tigger's attempt to use glue to hold him down has failed] A-ha! Hey Eeyore! I know what the problem is!
Eeyore: [lying upside-down in a bush] Glad somebody does...
-----------------------------------------------------------------------------------------------------------------------------
Tigger: [Eeyore is strapped to a makeshift glider sitting on the tree swing] Hmm, you know what you oughta have?
Eeyore: [deadpan] My stuffing examined...
Tigger: Naw, hah hah ha! A head protector-izer! [throws a cooking pot over Eeyore's head, over his eyes]
Eeyore: Wonderful...
v - e - d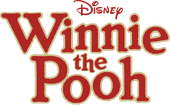 Songs
Movie Songs
Winnie the Pooh and the Honey Tree: "Winnie the Pooh" • "Up, Down, Touch the Ground" • "Rumbly in My Tumbly" • "Little Black Rain Cloud" • "Mind Over Matter"
Winnie the Pooh and the Blustery Day: "A Rather Blustery Day" • "The Wonderful Thing About Tiggers" • "Heffalumps and Woozles" • "Rain, Rain, Rain Came Down, Down, Down" • "Hip-Hip-Hooray!"
Boo to You Too! Winnie the Pooh: "I Am Not Afraid" • "I Wanna Scare Myself"
Pooh's Grand Adventure: The Search for Christopher Robin: "Forever & Ever" • "Adventure is a Wonderful Thing" • "If It Says So" • "Wherever You Are" • "Everything is Right"
The Many Songs of Winnie the Pooh: "It Really Was a Woozle, Yes it Was"
Sing a Song with Pooh Bear: "Kanga Roo Hop" • "You're the One and Only One" • "Harvest What You Grow" • "My Song"
Winnie the Pooh: A Valentine for You: "Girls are Like Boys" • "When the Love Bug Bites" • "Places in the Heart"
Winnie the Pooh: A Very Merry Pooh Year: "Jingle Bells" • "Snow Snows" • "Merry Pooh Year" • "Hunny, Not for Me" • "Auld Lang Syne"
The Tigger Movie: "Someone Like Me" • "Whoop-de-Dooper Bounce" • "Lull-a-Bee" • "Round My Family Tree" • "How to Be a Tigger" • "Your Heart Will Lead You Home"
Piglet's Big Movie: "If I Wasn't So Small" • "A Mother's Intuition" • "With a Few Good Friends" • "Sing-Ho (For the Life of a Bear)" • "The More It Snows (Tiddely-Pom)" • "The More I Look Inside" • "Comforting to Know"
Springtime With Roo: "We're Huntin' Eggs Today" • "Easter Day With You" • "The Way It Must Be Done"
Pooh's Heffalump Movie: "Little Mr. Roo" • "The Horribly Hazardous Heffalumps" • "The Name Game" • "Shoulder to Shoulder" • "In the Name of the Hundred Acre Wood/What Do You Do?"
Pooh's Heffalump Halloween Movie: "Trick 'R Treating With Our Friends" • "Brave Together"
Winnie the Pooh: "The Tummy Song" • "A Very Important Thing to Do" • "The Winner Song" • "The Backson Song" • "It's Gonna Be Great" • "Everything is Honey" • "Pooh's Finale"
Christopher Robin: "Goodbye, Farewell" • "Busy Doing Nothing" • "Christopher Robin"
Television Songs
Welcome to Pooh Corner: "Welcome to Pooh Corner Theme Song" • "Try a Little Something New" • "The Right Side" • "Yes, I Can" • "You're the Only You" • "I Hum to Myself" • "Please and Thank You" • "Responsible Persons" • "Welcome to Pooh Corner Ending Theme"
The New Adventures of Winnie the Pooh: "Pooh Bear" • "'Cause It's Make Believe" • "The Floating Song" • "Nothing's Too Good for a Friend" • "Under the Bed" • "I Don't Have A Name" • "King of the Beasties" • "The End" • "Pirates is What We'll Be" • "Tigger, the Private Ear is Here"
The Book of Pooh: "Everyone Knows He's Winnie the Pooh" • "Goodbye for Now" • "Your Best Wishes" • "On the Double" • "Who is Me" • "Think, Think, Think" • "What Piglets Are" • "I Watch for Signs" • "We're Making a Cake" • "If I Could Be Big" • "Isn't that Funny?" • "Find the X" • "Everyone Wants a Valentine" • "That's What We Do" • "Keep it Simple" • "Have You Got a Book For Me?" • "Give It a Try" • "On Your Way Back Home" • "The Birdbird Song" • "Nightmare Wranglers" • "Carry On" • "What's Your Name, River" • "Where Do Words Go?" • "Under a Spelling Bee's Spell" • "Adventure" • "Mental Altitude" • "I Want to Know Everything Now" • "Happy Tailiversary" • "Get Growin'" • "Tigger's Lullaby" • "Perfect Party" • "If We Were Talkin'" • "Someone New to Meet" • "My Hero" • "I Want To Be Scary" • "Broken Friendships" • "Do the Roo" • "Call Me Buck-a-Roo" • "At Chez Piglet" • "Nothing Ever Happens" • "Too Much Honey" • "Lost in a Book"
My Friends Tigger and Pooh: "A Few Simple Rules" • "Bouncin'" • "The Grass is Greenier" • "The Password Song" • "Underneath the Same Sky" • "One Big Happy Family" • "Think, Think, Think" • "The Question Song" • "Floating in a Cloud" • "Different Can Be Good" • "The Little Things You Do" • "There's a Party" • "No More Fun In the Snow" • "Butterflies" • "What Makes a Pony a Pony" • "When We Work Together" • "Christmas Comes Tomorrow" • "Time to Go (On a Trek Through the Snow)" • "Snowman Song"
Miscellaneous: "Luv-a-bye" • "Playtime Song" • "Learning Song" • "Friendship Song"

Community content is available under
CC-BY-SA
unless otherwise noted.