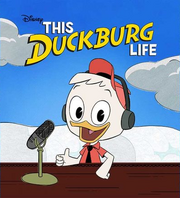 This Duckburg Life is a scripted audio series produced by Disney Television Animation. It was released on platforms including YouTube and DisneyNOW on March 29, 2021, just two weeks after DuckTales ended its run, and ran for seven episodes, concluding on May 10, 2021. Set up as a parody of This American Life, the podcast is hosted by Huey Duck as he talks about all the strange things happening in Duckburg. All the voice actors from the series reprise their roles. Every episode ends with Huey asking Donald to read the credits, composed of the actual crew, and getting annoyed at the abundance of names. As an in-joke, Donald would get ticked off upon reading Tony Anselmo's name, with him taking issue towards his mere existence.
Cast
Episode list
#
Title
Release date
1
Adventure Calls
March 29, 2021
Huey introduces the most insane story you've ever heard completely told through Launchpad's answering machine. When Launchpad forgets to pick up Dewey and Louie from Funso's Funzone, they wind up getting kidnapped by the Beagle Boys, teleported to Tibet and trapped in an alternate dimension!
2
Narratron 3000
April 5, 2021
Gyro Gearloose is Duckburg's most brilliant inventor, and today he's showing off his latest invention—a mind-reading helmet called the Narratron 3000, which Gyro tests out on Mrs. Beakley, Launchpad, Glomgold, and Scrooge. But when Huey volunteers to try on the helmet himself, the Narratron turns sentient and takes over his body!
3
Louie Sells Out
April 12, 2021
When Huey dedicates an entire episode to his study of the Duckburg Bark Beetle, Louie interrupts with endless commercials in a shameless attempt to get rich off the sponsors.
4
Ghost Library
April 19, 2021
Five hundred years ago, Duckburg's oldest library burned to the ground. Now, every hundred years, the "ghost of the library" appears for thirteen minutes and houses books that have only ever been dreamt of. Join Scrooge as he takes the kids on a daring quest through the Ghost Library to find a map to the world's greatest treasure!
5
The Framing of Flintheart Glomgold
April 26, 2021
When sharks are dropped on Scrooge's water park, Flintheart Glomgold is immediately arrested for the crime. But when Huey receives a collect call from Duckburg Jail, Glomgold's unbelievable story of innocence might just be true.
6
Out to Lunch
May 3, 2021
Launchpad McQuack's life is turned upside-down when his favorite burrito shop turns into a sushi restaurant. But who could foresee the consequences when Launchpad forms a special friendship with the Sushi Shenanigans drive-thru voice.
7
Beagle Day
May 10, 2021
Every year the infamous crime family, the Beagle Boys, throw a Scrooge-hating festival in their junkyard called "Beagle Day." But when the Beagle Boys steal Scrooge's top hat for their Ma, Louie and Webby must sneak into "Beagle Day" to retrieve the hat, which secretly holds the deed to Duckburg!
Trivia
Episodes