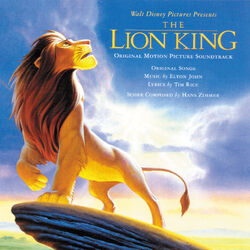 "This Land" is an instrumental score composed by Hans Zimmer with African vocals by Lebo M and his South African choir heard on The Lion King soundtrack and its Special Edition soundtrack.
Background
This score is a combination of two key scenes in the film: the scene during which rain falls on the Pride Lands and the scene in which Simba encounters his father's ghost.
The score picks up at the start of the rainstorm and cuts off just before Rafiki finishes his painting of Simba. The score then cuts to the scene in which Mufasa is speaking to his son, finishing with the musical flourish of "Busa Simba" that plays as Simba decides to return home.
Trivia
References